This New Dad's New Clothes
How fatherhood shaped my style.
by Evan Kaufman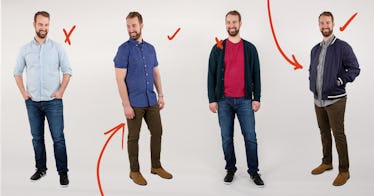 This story was produced in partnership with Stitch Fix, the personal styling service.
When my son was born, my day-to-day was radically upended. Sleeping and eating were out the window, and any sort of relaxation, or socialization completely off the table. My son is now old enough that out of the chaos, a routine has formed. I sleep six hours a night, eat my meals over the sink, and my wife and I watch TV with the volume on six and the closed captions on. It's not perfect, but my world is no longer spinning off its axis.
Now that I'm out of the newborn haze, there's something else I'm thinking about that I haven't in months: Me. I'm transitioning to a new stage of life and thinking about what kind of dad I'll be, and what kind of man I am. I want to raise a boy who respects his dad and is confident in himself, and as all the best parenting advice will tell you, a parent must lead by example. The way to encourage respect and confidence is to feel that way yourself first. I needed to show it.
When I became a dad, my sense of style was the least of my concerns. I was sleep deprived and too busy to think about my appearance — or at least that's my excuse. Honestly, I simply let my wardrobe slide and focused on a few rotating outfits.
But where do I start? Somewhere easy and something that I could do from home. That's why I turned to Stitch Fix. I filled out a simple style profile and explained what I was looking for. I wanted a look for work (business casual, with an emphasis on casual) and an outfit to spruce up date night. (You can see how these looks turned out below.)
Stitch Fix uses a real-life stylist who works with you, understands your tastes and lifestyle, and finds clothes that make sense for you. That real person makes all the difference. I was confident I was in good hands and would receive clothing that would look like something I'd wear, but better.
I might be patting myself on the back here, but I took the lead to change my style, showing my son what it looks like to feel confident. I don't look like a style icon or someone trying too hard — just myself with a better look. I felt more comfortable and confident, and it shows.
Will my new style make me a better parent? I think so. Everywhere in life, a little confidence goes a long way.
Date Night
The Work Look