Steph Curry is Pushing a Basketball Coaching App for Parents, But is it Good?
The NBA teamed up with players and coaches to release a go-to resource for youth basketball leaders. It's a great tool to have.
by Ben Marx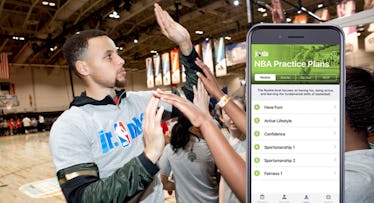 The NBA just kicked off its third annual Jr. NBA Week, a youth basketball participation program that teaches fundamental skills at the grassroots level. The week-long program, which runs October 9-16, aims to help improve the youth basketball experience for kids, coaches, and parents through local events throughout the country. To launch this year's Jr. NBA Week, Steph Curry, along with other players and coaches, updated a new Jr. NBA Coach App to provide tools and resources to support parents and coaches in the youth basketball experience. The new app is jam-packed with plans, drills, play-books, and more. We checked out some of Jr. NBA Coach's features to see if the free app is worth firing up.
To start, the sheer volume of resources available in the Jr. NBA Coach App is massive, including 250 demonstration videos featuring NBA and WNBA players and coaches, and 48 preloaded practice plans. The practice plans section is probably where first-time coaches will find the most helpful resources. Broken down into individualized offerings for "Rookie," "Starter," "All-Star," and "MVP" teams, each skill-level comes preloaded with instructions for activities like skill-building, warm-ups, and value discussions. If you're generally familiar with the physicality of the training activities, the extensively designed practice plans are easy to follow and make for a whole practice's worth of exercises. Even if you're not familiar with some of the exercises, most include embedded video tutorials to guide coaches.
One of the most interesting aspects is the app's "Values" offerings, which provide discussion tips on the philosophy of the game and how to develop proper values while playing. Examples include conversation-provoking questions about fairness and respect to referees in the "Rookie" section, and pivots to heavier topics for "MVP" teams like humility, injury prevention, and leadership. The discussion topics are a helpful springboard for new coaches who might have a decent grasp on putting their team through physical exercises but could use help with team-building and ethics.
If coaches aren't interested in following any of the practice lessons precisely, there's a convenient option to save exercises to a personally customizable plan. Individual exercises and their accompanying video tutorials are also easy to search for.
Should you download and use Jr. NBA Coach? If you're a veteran youth basketball coach, you're probably already fairly familiar with most if not all of the training suggestions. But it's still a robust offering to keep in your pocket. The Custom Plans option especially could serve as a useful way to organize your own practice schedule.
If you're relatively new to the coaching game, Jr. NBA Coach is absolutely worth trying out for at least one practice. You're likely to fish for practice ideas from multiple sources, which can often be the right move, but Jr. NBA Coach can serve as a one-stop shop for a streamlined planning and inspiration experience. NBA and friends have put together a solid app, but ultimately only coaches can feel out what's best for their teams.