The Best STEM Toys and Coding Blocks For Kids That Make Robotics a Blast
Best of all, no screens required.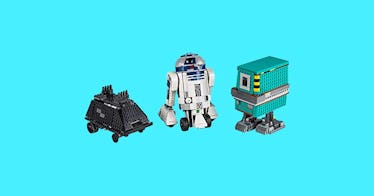 STEM (science, technology, engineering and math) and coding toys for kids make playtime ultra educational. STEM is now a major part of most school curriculums, and plenty of parents are eager to give their little ones a head start when it comes to cultivating a love of learning within these fields. After all, the earlier you can grasp these increasingly important skills, the better.
The U.S. Department of Education is a big proponent of teaching kids STEM skills because through them children learn problem-solving, processing complex concepts and information, and the ability to gather and evaluate evidence in an ever-changing world. Starting as early as age three, kids use their observation skills and base their understanding of trial and error and cause and effect, which serve as building blocks for logical reasoning.
While all kinds of toys and plain old imaginative play can help your kid learn and problem solve, coding toys for kids are always a great option. Coming in the form of robots, gadgets, and games, these gizmos teach as much as they entertain. And many coding and STEM toys are so much fun that kids don't even realize they're learning.
Every product on Fatherly is independently selected by our editors, writers, and experts. If you click a link on our site and buy something, we may earn an affiliate commission.
This article was originally published on