BB-8's Replacement In 'Rise of Skywalker' is Now a Slick Remote Control Toy
This little droid is set to roll its way into all of our hearts in the next big 'Star Wars' movie. And, it's already a remote-control toy.
by Donna Freydkin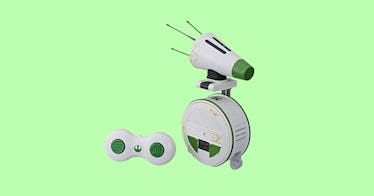 When The Rise of Skywalker opens in theaters on December 20, get ready for an onslaught of new Star Wars toys. And we hereby fearlessly predict that a new droid will roll its way into everyone's hearts, in the tradition of BB-8. The new little droid named simply "D-O" and if it it looks like it came out of your weird neighbor's filthy garage, that's intentional. This bot was cobbled together from odds and ends in the workshop of a droidsmith, and makes his big appearance in some kind of pivotal scene in the next big Star Wars movie.
So, although there's no shortage of Star Wars gear to buy, be it lightsabers or watches; we're here to add another pretty awesome Star Wars toy to the list: a remote-controlled D-O, which is legitimately awesome. Part of what makes D-O seem cool is the same thing J.J. Abrams did right with BB-8; this droid looks like it could exist in the real world, and now, it does!
Kids use a remote control to steer this thing forward and backward or make it spin 360 degrees as it makes electronic droid sounds. The D-O droid's head bobbles up and down and side-to=side as it races around. This means major intergalactic fun for your little Rebels.
Every product on Fatherly is independently selected by our editors, writers, and experts. If you click a link on our site and buy something, we may earn an affiliate commission.
This article was originally published on