7 Awesome 'Star Wars' Porg Toys You Can Buy Right Now
The cute new 'Star Wars' critters popped up in the newest 'Last Jedi' trailer, and are sure to be everywhere soon.
by Ben Marx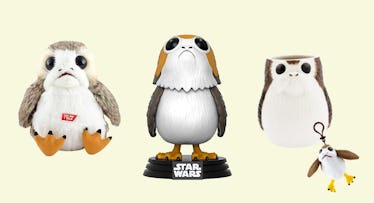 If you've been anywhere near the internet in the last 12 hours, you might've heard that the newest trailer for a little movie called Star Wars: The Last Jedi dropped. And while there's so, so much to dissect in all that new footage, including weeping Kylo Ren, crystal ice hounds, and lots of dour expressions, the clear stand-out is the appearance of what's already turning out to be everyone's new favorite Star Wars creatures: Porgs. Are they more like penguins? Hamsters? Seagulls? Are they vicious? Are they mere nuisances? There's a lot to be discovered. But the cute hybrids found on Ahch-To have already launched their invasion on the toy-scape. To gear up for The Last Jedi's premiere on December 15 – and your kid's eventual pleas for Porg everything – here are some of the best Porg toys you can get your hands on right now.
Life-Size Porg Plush
This life-size talking Porg plush might be only 10 inches tall, but it comes packed with movie sounds. Squeeze its belly to hear some cuddly coos.
Moving Electronic Porg
This moving electronic Porg toy waves, waddles, flaps, and chatters. Let it loose on any surface and it'll do what a Porg does best: look sullen?
Porg Backpack
It's a bit weird to imagine unzipping a Porg and stuffing some toys in its back, but this bag, meant for kids 3 years and up, has adjustable straps and carry pouches, weighs in at just 14 ounces, and is a perfect accessory for school or sneaking pre-brought candy into a Last Jedi screening.
Porg Pillow Buddy
This plush Porg Pillow Buddy stands 16 inches tall and is made of 100 percent polyester, so it's probably a great companion to any bed. Just ask your kids not to use it in a pillow fight; Porgs are not meant to be weapons of destruction…we think.
Funko POP! Porg Collectible Figure
Funko never disappoints, and this bobblehead, while a tad nightmare-inducing, is a killer collectible. The wings don't move but the figure can detach from the base.
Porg Mug
Start your morning right by sipping hot beverages from the emptied cranium of an adorable, likely endangered, fauna!
Porg Dog Toy
It's built to crinkle and squeak, but will this awkward-looking Porg toy become a favorite of your pooch? Do you have the heart to let him chomp on it? Only time will tell.
This article was originally published on