This 'Star Wars' Night Light Puts the Death Star Plans In Your Kid's Bedroom
This is basically way too cool to be real. And yet, it's real.
by Donna Freydkin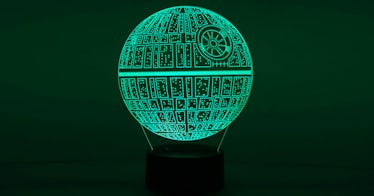 The Rise of Skywalker is almost upon us, and that means everybody is going to be talking about Star Wars stuff again. Right now, there's no shortage of Star Wars gear, be it lightsabers or watches. And now, the galaxy far, far away lives right in your kid's room thanks to a dope new Star Wars night light that projects R2-D2, the Death Star, and the Millennium Falcon on ceilings. Basically, this thing is like having a real-deal Star Wars hologram, just like the ones you see in the movies, projected into your kid's bedroom.
It is an undisputed fact that kids are weird. That like to sleep with weird shit in their beds (A giant sloth? Check. Seven piled-up blankets resembling an ungainly garbage heap? Second check.). And they have even more weird bedtime routines that we as parents do not question because hey, whatever it takes, am I right?
A key part of that bedtime ritual is the night light. Kids love having stuff project onto their ceilings, be it a regular solar system, or one where they might encounter droids and massive starships.
This night light isn't fancy or loud. But then again, why would you want it to be? The point here is to go to sleep. To that end, it projects images that look like they're 3D, and that's thrilling enough to make bedtime something your child will look forward to. You choose one of seven colors, and pick the iconic Star Wars image you (we mean your kid) want to see. And lo and behold, quicker than you can say Darth Vader, the Death Star floats on your kid's ceiling. Oh, feeling more of a resistance vibe? The Millennium Falcon is all yours, Jedi.
Is this a necessary purchase? Of course not. Will it make bedtime more seamless and less of hassle? Bedtime easier becomes, yes.
Every product on Fatherly is independently selected by our editors, writers, and experts. If you click a link on our site and buy something, we may earn an affiliate commission.
This article was originally published on