Pre-Order This Retro 'Star Wars' Mandalorian Troop Transport Straight From 1979
A toy from the '70s is back, with a Mando twist.
by Donna Freydkin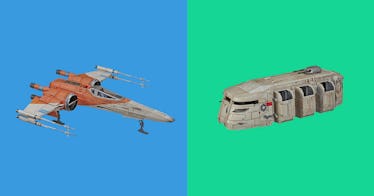 If you grew up in the '80s, or just love late- '70s and early '80s Star Wars toys, then there's a chance you remember a very specific vehicle that doubled as a way to store your classic Star Wars action figures. Welp, in The Mandalorian, that Imperial Troop Transport finally made an appearance, and now, it's set to be a pretty slick toy. First released in 1979 to support the inaugural movie (although it didn't have any actual screen time) you probably remember seeing this in the penultimate episode of The Mandalorian. The old-school cool Star Wars vehicle is now available for pre-order, with a ship date of March 31.
A little history: The Imperial Troop Transport was used to move the Empire's soldiers from location to location. But, it was never really part of the films. It was mostly just a cool-looking toy that let you stick in a bunch of action figures side-by-side. In The Mandalorian, it actually appeared on-screen.
So, because it's a toy again, the circle is now complete. It started as a toy! The new toy comes in vintage-inspired packaging. It's inspired by the vehicles in The Mandalorian series. It has a removable roof, opening doors, fold-down seating, a swiveling turret, and blaster storage. Meaning, kids as young as four can play with it. But let's be real. This thing is meant for dads. It's part of what Hasbro calls the Vintage Collection, which includes other figures and vehicles.
So of course, you might be wondering: Are there other iconic vehicles in the pipeline? Maybepossiblyperhaps.
"I can't really speak about anything we might do in the future. We all have a wish list of things we'd like to do. Sometimes, you have to factor in real-world realities — sure you'd love to be able to make a Star Destroyer, but that might be a little bit too large," Mark Boudreaux, senior principal product designer for Hasbro's Star Wars product line, told the Hollywood Reporter.
Every product on Fatherly is independently selected by our editors, writers, and experts. If you click a link on our site and buy something, we may earn an affiliate commission.