Amazon is Having a Huge Sale on Kids' Star Wars Costumes Right Now
Clone Trooper. Obi-Wan. General Grievous. They're all there.
by Dave Baldwin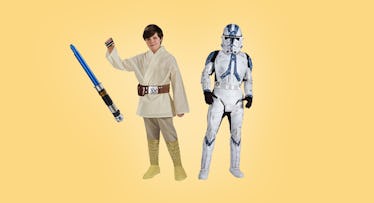 With The Last Jedi slated to open in December, Star Wars costumes are going to be hot this Halloween. Strike that. They're going to be ubiquitous in the best possible way. And, yes, many parents will take the lo-fi DIY approach, slapping a vest on a kid and spraypainting a helmet rebel orange. There's nothing wrong with that. The Alliance is supposed to be a bit ragtag. But there's also something to be said for thinking inside the box on this thing and grabbing some pre-made costumes because some characters (Vader, Clone Troopers) are a bit difficult to assemble on your own. If you're ready to head that route, great. Do it now: Amazon is having a sale. Right now, the site's selling more than 25 different costumes and Halloween accessories at heavily marked down prices, including $7 Han Solos, and $8 lightsabers, and $9 Tie-Fighter Pilots. May the Force — and well-stocked supplies — be with you.
RELATED: The Coolest Star Wars Toys From 'Force Friday'
And those aren't even the biggest deals. In fact, several of the more elaborate outfits with full masks, such as a Deluxe Clone Trooper, General Grievous, and Storm Trooper, are marked down up to 50 percent off (from $60 to $30). Not to mention, they're also knocking $15 off Obi-Wan, $19 off Ahsoka Tano, and $13 off Princess Leia.
Of course, all your Lukes, Yodas, Darth Vaders, and Boba Fetts are in the mix too, as well as a Boba Fett Candy Bowl Holder and stormtrooper fence decoration for kicks. And don't forget, if you're looking for matching adult costumes, these insane unbreakable light sabers from Kyberlights are also on sale for Halloween.
This article was originally published on