Star Wars Battle Quad Drones Are Real Flying Fighters From The Movies
by Dave Baldwin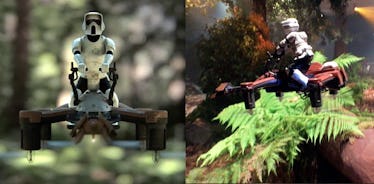 If there was ever any doubt you had kids so you can play with toys again — this pretty much clears it up. These officially licensed Star Wars Battle Quad Drones let you and your kids reenact an intergalactic space war in a galaxy far, far away right over the driveway. It's almost impossible to overstate how giddy the 9-year-old in you is right now.
RELATED: Horrifying Realities About 'Star Wars' You Should Never Tell Your Kids
The coolest part is that the hand-painted quads from Propel use a "patent-pending reverse propulsion system with invisible blades" underneath the body, so you can barely even tell the damn thing is a drone. It looks like a miniature X-Wing fighter screaming past the basketball goal. The quads can make the jump to lightspeed — or at least go from 0 to 30 MPH in 3 seconds — and have a top speed around 35 MPH with a range of around 200 feet. They only get 6 to 8 minutes of flight time before requiring a 30-minute charge. Boo! But, they do come with an extra battery so everybody doesn't have to go inside for Tang right after the first dogfight. Yay!
You can currently pilot one of four classic ships (X-Wing Fighter, the Millennium Falcon, Darth Vader's TIE Fighter, and the Scout Trooper speeder bikes from Endor) and do battle with up to 24 other drones (so send this to all the dads). The remote control keeps tabs on shots, hits, and kills. Get tagged once, and you'll briefly lose control. Three hits knocks your ship clear out of the sky. Don't worry, they're designed to be crashed. As long as that drone AT-AT doesn't crush it before you can pull Dak out, you're good. There's also an app in the works that will track scores, ranks star fighters around the world, and serve as a training flight simulator — because real battle isn't like bullseyeing womp rats in your T-16.
And, for those collectors who'd rather stare at an unopened drone, hoping it'll pay for their retirement, the battle quads come in a special collector's box. It lights up like the hanger of a Rebel Alliance starship and plays the music from four iconic Star Wars scenes — which means nothing from The Phantom Menace.