StarSailor is the Ultimate Bedroom Entertainment System and Sleep Tracker
Watch the stars or, better yet, watch the game.
by Michael Frank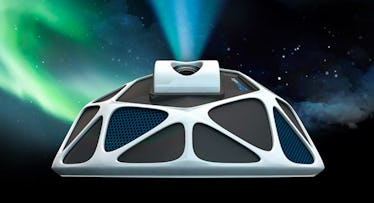 Considering how many kid-friendly projectors have hit the market in recent years, it's hard to believe it took somebody so long to make a product for mom and dad. That's what StarSailor is, a high-res video player for your nightstand that beams 120-inch images, video, and live TV ⏤ as well as constellations, if you're into that ⏤ onto the ceiling above your bed.
RELATED: This Kid-Sized Projector Turns Their room Into A Movie Theater
StarSailor (no affiliation to the Britpop foursome) comes equipped with a catalogue of soothing white noises (desert, ocean, rain), as well as an alarm clock that gently builds in volume. But the really impressive thing about the tool is not that offers the dual functionalities of clock and a television, but that it improves on the user experience of both. Wave a hand in the air and the built-in motion detector triggers a snooze button. "Push-Button" used to be a euphemism for easy to use, but we're past that now.
StarSailor also has ancillary functions. It monitors the air quality in your bedroom and your sleeping habits. Using a mattress sensor, it measures nighttime rustling and creates a daily morning report your nocturnal activities.
Could you use StarSailor in a kid's room? Sure, but it seems like both overkill and a bit of a waste. It won't let them practice multiplication tables like a Helio and might be the worlds most optimized nightlight. That said, it does have a reading mode that projects an e-reader bedtime story overhead. So that's something.
The big drawback of this adult bedtime projector is that it won't be available until next year. That said, if your order now on Indiegogo for $299, you will score $300 off the eventual retail price.
(Pre-order for February 2018)
This article was originally published on