The Mildly Creepy Luvabella Doll Is About to Be the Holiday's Most Popular Toy
Luvabella is a life-like doll that uses artificial intelligence to speak, drink, and demonstrate how real/awkward it can be.
by Dave Baldwin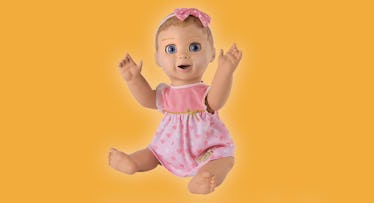 For as lousy as kids are at their own upkeep, they sure do enjoy taking caring of dolls and pets ⏤ especially ones that look and act real. No sooner did the Fingerlings, those adorable robot monkeys that coo when you rub their heads, lay claim to the hottest new holiday toy than another interactive doll started flying off store shelves. And this thing ain't no monkey. Spin Master's Luvabella is a mildly creepy animatronic baby that uses artificial intelligence to speak, drink, and demonstrate how real/awkward it can be using "true-to-life facial expressions and movements." And kids are all about it.
RELATED: The Best Playsets to Buy Your Kid
The $99 doll was released in the United Kingdom earlier this month and like Spin Master's hit toy last year, Hatchimals, immediately sold out. And while it's not slated to hit U.S. stores until October, the price gouging has already begun: it currently sells on Amazon for around $200. Yeah, holidays?
Now, admittedly, Luvabella is not as creepy as Professor Einstein, the animatronic robot that teaches kids science, but it does have its moments. In fact, some Brits have snidely compared her to horror sensation Annabelle ⏤ a reference most 4-year-olds, thankfully, aren't going to get.
What they will love is that Annabelle, sorry, Luvabella, laughs when she's tickled, drinks from a bottle, and will play Peek-a-Boo with them. Like a real baby, she starts out talking nonsense but can quickly learn up to 100 words the more you interact with her. In fact, she's capable of learning on the fly and responds to human contact with up to 500 unique and changing responses. Feed her and she eats, give her a blanket and she plays, leave her on the couch and she'll probably just take a nap while watching the football game. She comes with four interactive accessories: a spoon, bottle, pacifier, and Lamby blanket, and she has dedicated movements with each.
Luvabella will also come in a number of ethnicities and with different hair colors and skin tones, so every kid can play with a doll they're comfortable with. And there's even a boy doll named Luvabeau, which may or may not be French for Lover Boy. Again, they aren't slated to cause riots in the aisles of Toys 'R' Us until next month, but if you're inclined to get an early jump on the holiday shopping, unscrupulous sellers on Amazon are happy to take your money.
This article was originally published on