Listen Up! These are the Best Soundbars
'Game of Thrones' has never sounded better.
by Jon Gugala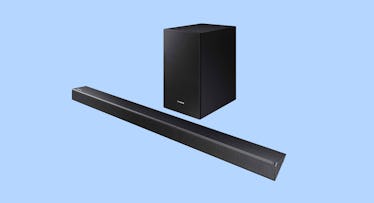 If you want immersive entertainment at home, you need a soundbar.
Why? Because expecting your high-def TV to also produce high-quality sound is like going to McDonald's for a T-bone steak. You won't be satisfied.
The bottom line is that the bedrock for the modern home sound system is the soundbar. Soundbars take the job of nuanced, dynamic sound from your already overworked TV by breaking it down into component parts: the highs, mids, and bass all get the attention they deserve, while software stitches them precisely together. The result ensures that every piece of dialogue and swell of the soundtrack is heard clearer, louder, and richer.
Regardless of the amount you're willing to spend, we've found a host of options that will update your sound. Of course, what's good for you is also good for the kids. While Game of Thrones will finally get its due, so will Coco, Frozen, and the rest of your kid's favorites. Everybody truly wins with these soundbars.
Pros: This Samsung soundbar is a great choice for gamers, because it has game mode to boost your sound effect settings when you're in the middle of Overwatch or Fornite. It's easy to set up. And you'll won't have your eardrums blown when something you're watching suddenly goes up in volume, because the soundbar automatically optimizes your sound for what's on.
Cons: As we stated above, this is a solid choice for Samsung TV owners, because this soundbar is made expressly for seamless connectivity.
Pros: The Command soundbar connects to your smart TV quickly and easily with a single HDMI cable and is fully compatible with the latest 4K devices. Once synced up, you can control many of its functions with your existing remote, although it also includes its own, as well as voice command. The included subwoofer ensures that your lows are as thumpy as your mids and highs are crisp. Alexa-enabled, it can sync with existing smart home devices and stream music (including Spotify) around the home with other enabled devices. While the bar itself can be rested smartly on an entertainment center, we preferred to mount it under or over wall-mounted TVs with additional hardware (sold separately).
Cons: If you're not an Amazon member, you'll miss out on this device's full capabilities. Still, whether or not you're a Prime member, you can still access voice-control options including volume, bass, and source selection. Bottom Line: Even if you're not an Amazon customer, there's still a lot to love.
All told, this system pumps out 320 watts of total output between its soundbar unit and wireless subwoofer.
Pros: For most TVs, all it takes is one HDMI ARC cable to connect, though the latest Sony TVs that include BRAVIA TV can do it wirelessly. This is another soundbar that can be rested on a table for quality sound without appearing messy, though for ultimate space saving, it begs to be wall-mounted. The "voice enhancement" feature is a nifty software trick that digitally isolates voices and boosts audio frequencies for greater clarity. It's also Bluetooth ready so that you can use the unit as a streaming speaker when not using the TV itself.
Cons: The only downside is that if you have a 4K TV, this affordable unit isn't compatible, and you'll have to look further up Sony's range for something to pair with your state-of-the-art unit. That's a bummer. Otherwise, it provides surprisingly great performance for the price thanks to its two-part package.
Pros: Comprised of nine amplifiers powering nine speakers (three high-end tweeters and six mid-woofers), this soundbar would produce nuanced, multi-dimensional sound on its own, even without software juicing. Enter its "Speech Enhancement" function, available with the press of a button or voice command, which further improves dialogue in your favorite shows and movies. Already a fan of Sonos around the home? It's easy to connect this with the rest of your devices, as well as add additional units over time for a complete wireless home system. It's also Alexa-enabled and easily wall-mounted.
Cons: Sonos is really about a modular system that can be expanded and customized based on your preferences. A connected Sonos subwoofer? That's another $699. Totaled, this can mean a ton of money to get everything you want. For that reason, if you're looking for a one-stop shop, it's best to go with anther brand, though you'll be hard pressed finding the same quality for less.
Pros: Less than two feet long and the smallest on this list, the Solo 5 soundbar does a lot in a little package. While only comprised of two speakers, the trademark Bose amplification makes it sound like there's much more. It covers the bass, mids, and highs admirably, and it includes the software upgrades like a dialogue mode to give greater clarity as needed. It connects through a single cable and is Bluetooth-ready to allow streaming from your phone or tablet. "It has a well-rounded sound and can get loud enough that we can find the right volume for whatever we are watching," writes one Amazon customer.
Cons: If you're looking for just the first of multiple home sound system additions, this isn't for you. The Solo 5 is a one-box solution and can't be expanded down the line with woofers and additional speakers. For that reason, it's best for many as a soundbar for the guest bedroom or vacation home.
Pros: The two-speaker soundbar boosts sound to 95 decibels despite being just over two feet. A built-in Bluetooth function also allows you to use this as a wireless speaker when not using the TV. We also liked its factory-tuned surround sound output and volume equalizer. All told, this is a decent package at an impressive price.
Cons: While this can accommodate an additional woofer down the line, it should be viewed as an entry-level system that eventually gets ditched. Every other option on this list has better sound, higher volume, and more uses. Still, this is a decent package at a price that's hard to beat.
Every product on Fatherly is independently selected by our editors, writers, and experts. If you click a link on our site and buy something, we may earn an affiliate commission.
This article was originally published on