The New Sonos Roam Wireless Speaker: Tons of Sound in a Small Package
It's sleek, plays music just about any way you'd need to, and is rugged enough to survive an afternoon with kids by the pool.
by Sal Vaglica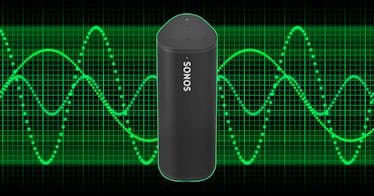 Portable Bluetooth speakers have been around for a while. Designed to survive the outdoors, they're handy, small, lightweight, and have simple controls that even non-techy parents can use. The Sonos Roam is part of the new wave of speakers that also use wi-fi. These portable smart speakers do everything a Bluetooth speaker can, but they layer on voice controls for Alexa or Google Assistant to control your music, find the weather, or work some smart devices in your house. The Roam is the smallest speaker the brand makes, and while it makes sense if you're already using other Sonos gear, does it make sense compared to the rest of the options out there?
The Sonos Roam is just about the most inexpensive speaker the brand makes. We've been using it for a few weeks inside and outdoors. Given the size, the sound is very punchy and clear, especially with vocals. Max the volume outside and the Roam is relatively distortion-free. Inside, it helps to have walls to reflect sound, obviously, and you get the benefit of the speaker's Trueplay, running a diagnostic on your environment to tweak the sound as you move it around the house. Inside, our tunes felt bassier: Sound quality is the Roam's downside. In such a small package, stuffing thumping bass can be a challenge, and here it falls a little short. Other than that, the sound quality is very good, but it's not head and shoulders above other speakers we've tested.
You can also expect the battery life to max out at 10 hours — under ideal conditions. Connecting to the Roam through wi-fi uses more juice than Bluetooth, as do things like pausing frequently, cranking the volume, using voice commands — basically, anything beyond letting it play at middle volume.
While it has more of a rounded triangle shape, the diameter is similar to a standard size Coke can, just a bit taller. And it's light — just a smidge heavier than a full bottle of Gulden's mustard. You'll see many outdoor speakers boast their International Protection (IP) rating as a mark of durability. The Roam has an IP67, meaning it's dustproof and will withstand submersion in water at 3 feet for 30 minutes. It's also drop-resistant. It goes well beyond splashproof, so bring it around pools, take it in the shower — but careful on boats or SUPs as the Roam does not float.
Rugged as the specs are, the aesthetic is sleek, modern, and very Sonos. The hard plastic shell is punctured with tiny holes along one side of the triangle, complete with rubbery end caps and feet. The departure from the cylinder means the Roam doesn't broadcast music 360 degrees, so setting it down in the middle of a crowded table might be an issue. But on the flip side, the triangular shape and flat ends mean you can stand it up or rest it horizontally, giving you more options.
Hidden underneath the rubbery end cap are buttons — real, actual buttons. They feel great and make it easier to get feedback when you play, pause, or change the volume. Too bad the markings are tiny and can be hard to see. Of course, there's also the Morse code-like pattern of flashing colored lights you have to memorize with Sonos gear. Or at least be ready to Google "What does Sonos flashing light mean?"
On the back is one button for power and the USB-C charge port. You can juice it up with the included cord or for an additional cost, wirelessly with an additional Sonos charger. If you've already got a Qi charger in your house — like an Anker for your phone — that will charge your Roam, too. Charging wireless takes about twice as long as plugging it into a cord.
Where the Roam shines is connectivity. Over wi-fi you can use Google Assistant, Alexa, and Apple AirPlay 2. Using your network, you can also pair two Roams together for left and right speaker stereo sound. While it works perfectly as a Bluetooth speaker when you're away from the house or, say, hiking, we wish it was possible to pair with other speakers the same way. Currently, there are other options out there, from brands like Ultimate Ears and JBL, that will let you pair multiple Bluetooth speakers together when you're away from your network.
The Roam likely makes the most sense for someone who is already in the Sonos ecosystem, or if you're in the market for an outdoor speaker that's got a more restrained style, so it won't shout out when placed on a bookcase. But if you're looking for an outdoor speaker that you can beat up, and have the kids to play with and not have to worry about it, there are other options from JBL and Ultimate Ears.
Pros:
• Solid sound from a very small package • Connectivity through wi-fi or Bluetooth using Alexa, Google Assistant, or AirPlay 2 • Robust build that should withstand whatever you throw at it, especially in wet environments • Attractive styling and the flexibility to play horizontally or vertically • Works well as a smart speaker inside the house
Cons:
• The bass can be lacking • Can be tough to attach to your gear, like a bike or backpack • Buttons on top can be tough to read • Sonos app can be a little buggy
Every product on Fatherly is independently selected by our editors, writers, and experts. If you click a link on our site and buy something, we may earn an affiliate commission.
This article was originally published on