The Snoo Bassinet Is on Sale for Black Friday
There is officially one good thing about the year 2020.
by Donna Freydkin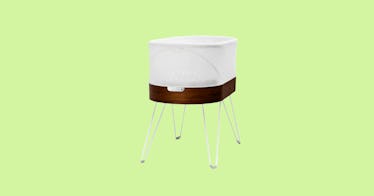 Parents of newborns know that sleep is elusive for many (many) months after bringing baby home from the hospital. It's a little less elusive for parents of newborns who have the SNOO bassinet: The "Smart Sleeper" is hailed as the ultimate sleep savior, for both babies and parents. Unfortunately, though, it costs a small fortune. Is it worth it? Hell to the yes, say moms and dads. And today, something is happening that never happens: The SNOO Smart Sleeper is on sale for Black Friday. There is now officially one good thing about the year 2020.
How does the SNOO work, exactly? It's magic, coupled with science, courtesy of Dr. Harvey Karp, of The Happiest Baby on the Block fame. It's a responsive bassinet that combines gentle rocking with soothing white noise and swaddling. Basically, it seeks to imitate the feeling of being in the womb. It has five different levels of sound and motion, depending on your baby's preference. The mesh walls increase air flow. And it's got a built-in algorithm that can differentiate baby cries from room noise. You control it from your phone.
It's still pricey — don't get us wrong — but it pays major quality of life dividends.
Every product on Fatherly is independently selected by our editors, writers, and experts. If you click a link on our site and buy something, we may earn an affiliate commission.
This article was originally published on