The SNES Classic Is Coming to Dominate Your Life This Fall
Time to brush up on your cheat codes.
by James Wohr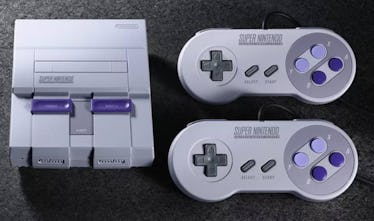 Nintendo
Nintendo just made this year's Christmas shopping a whole lot easier. Nearly 26 years after the original's North American debut and almost 20 years after its discontinuation, Nintendo has announced they will be re-releasing the SNES Classic Edition in September. Better start stretching your fingers now.
RELATED: The Best Retro Game Consoles
A follow-up to the much sought-after NES Classic, the SNES Classic will be a shrunk down version of the beloved gaming console. It will include two controllers and, best of all, come pre-loaded with 21 oh-man-remember-that? games, including Mega Man, Star Fox, A Link to the Past, Street Fighter II, and Yoshi's Island. The console will also come with the never-before-released Star Fox 2, a sequel to the game that launched the career of one of Super Smash Bros. least playable character.
The SNES Classic hits shelves on September 29th and should be a major holiday ask for many. However, you might be better off grabbing yours sooner rather than later—last year, NES Classic Edition was discontinued without warning or ceremony and many were left out in the cold. Hopefully, the SNES Classic will fare better, but getting your preorders in now would be wise either way. It'll be available for the pretty reasonable price of $80.
This article was originally published on