The Snapchat Spectacles 2 Sunglasses Are My Favorite Camera
They let me capture moments with my kids while actively participating in the fun.
by Tyler Hayes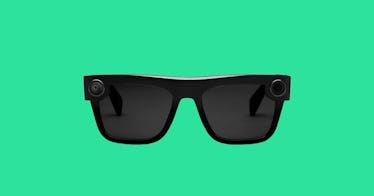 I often feel terrible at capturing those once-in-a-lifetime videos during family vacations or important events. But then I realized that my hands are busy in the moment instead of wrapped around a camera. My solution: a pair of sunglasses. Not just any sunglasses though, Snapchat's new Spectacles 2. The otherwise ordinary shades have a built-in HD camera that allow me to capture first-person perspective videos or photos with just the press of a button.
The Snapchat spectacles look like standard sunglasses. They're water resistant and have polarized lenses. The only difference between them and other styles of sunglasses are the large round dots positioned near the temples, which house the camera (right side) and an LED ring (left side). The Spectacles 2 have 4GB flash storage (you can store up to 150 videos or 3,000 photos before needing to upload) and, compared to the first generation of Spectacles, a style that doesn't make you self-conscious because you're wearing teched-up glasses on your face. In fact, the Nico glasses resemble your classic large, square-framed shades. The Spectacles also come with a protective case that doubles as their charger — and can bring the battery to full in about an hour.
There aren't a lot of fiddly parts to Spectacles 2 — only one button to operate everything. That button sits on the top of the lens. Press the button once to start capturing a 10-second video. If you want to capture a longer 60 second video, press the button again to extend it. To take a photo, you simply press and hold the button for about two-seconds. In practice, this is as easy as it seems. I was even able to press the record button on the glasses half-way down a water slide without issue.
But how are they in the field? Over the last few months I've found that wearing a camera on my face not only helped me take a lot more videos during memorable times, but they also made me a lot more present in the moment—not having to bust out my phone to capture a moment.
If I'm going to wear a camera on my face to avoid distraction from my phone, I also it to not be complicated. I've found Spectacles one-touch operation is basically as simple as video recording can get. It just looks like I'm adjusting my sunglasses, if I reach to press the button and start a video.
While having a camera on your face may seem odd at first (spoiler alert: it takes some getting used to), the on the nose location provides a totally unique and personal vantage point. Plus, each time you watch the videos it feels like you're really experiencing the moments again.There was nothing better than taking my kids to the park and later having them ask how I took the videos of us playing kickball, because they never saw me take out my phone.
Using the Snapchat app, you can group all the videos together or export them as one video or individually. Don't worry if you're not a Snapchat user, or don't want to become one. You can think of the Snapchat app as just the import software — the way any other camera would need an app to bring the videos in to your phone. Import the videos to your phone, save them to the photo album, and you're done. Sharing the Spectacles videos on Instagram, Facebook, or any other way doesn't take any advanced technical skills either.
To recap: I like the Spectacles 2. A lot. They allow me to capture fun moments with my kids while being an active participant in said moments. That's worth the price of admission alone.