The WooHoo Is A Wi-Fi Camera That Can Control Your Smart Home
Alexa ... do I have spinach in my teeth?
by Dave Baldwin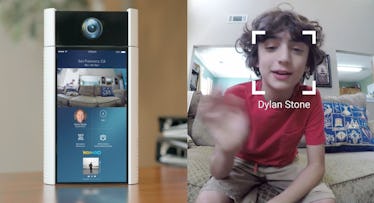 If there's one thing you could use more of as a parent (other than sleep), it's an extra pair of hands around the house. Someone to make coffee, buy groceries, or help your kid with their math homework when you can't remember how to solve for x. (Is it … y?) Since Tony Danza isn't walking through that door, there's the new WooHoo.
RELATED: Smart Gadgets Designed to Help You Get Better Sleep
The latest entry into the connected camera/home smart hub market, WooHoo is an AI-based virtual butler with a 360-degree camera (13 MP) that not only recognizes your voice, but also your face. Yep, it uses facial recognition software to notice when you enter the room and then voice commands to help you do everything from dim the lights to turn up the heat — literally, by adjusting the thermostat, and figuratively by playing Marvin Gaye over its "spatial surround" speakers. (Don't forget to cover the camera with a blanket!)
And speaking of camera, the motion detection/infrared night vision lets you keep tabs on the place while you're out; if somebody enters and WooHoo doesn't recognize them, you're getting a notice on the app. The kids can also use the camera and flashy 7-inch touchscreen to video chat with grandma and/or control the device if they're not big on talking to robots.
In terms of specs, WooHoo connects with all your smart home devices via Wi-Fi and Bluetooth (and has built-in 4G LTE), boasts multiple ports (SD Card, USB, HDMI), and charges wirelessly. It's also pretty cheap compared to Amazon Echo and Google Home, especially considering the screen — only $89 plus $9 a month for the subscription. It's currently available for pre-order (at a discounted rate of $103 for both the device and 6 months) but doesn't ship until early summer.
(Pre-order for May)
This article was originally published on