The Smart Table Freed Me From the Despair of Ugly, Tangled Cords
It plays music. It charges tablets. And it looks damn fine doing it.
by Ben Radding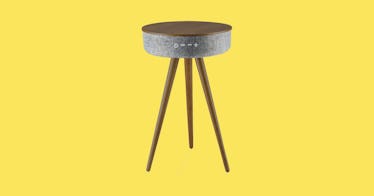 If your living room looks like power cables and random snarled charging cords are fighting the battle of Crait from The Last Jedi, you need help. And it arrives in the glorious, sleek, and streamlined form of this smart table that's also a wireless charger, and Bluetooth speaker. Form and function marry in a coffee table that's both a conversation piece — and a total smart hub.
My living space, as you might have gleaned, looked like Best Buy threw a kegger and left without cleaning up. Charging cables seemingly reproduced at will, and yet were never there when I needed one. Which is one of the many reasons I love this table.
Let's start with function: you can tell there's more to this table than meets the eye. It's clearly a speaker—just look at the fabric surrounding the outside and the power, play, plus, and minus buttons. In fact, it's got both wireless Bluetooth 4.2 capabilities and an aux cord if you want to plug in. And it has two USB ports, should you need them.
The surrounding speaker gives you the ability to have 360-degree projection, so no matter where the crowd's at when you're entertaining, they'll be able to hear your tunes. The drivers offer full high-def audio and the subwoofers provide some decent bass. And those buttons on the outside work, too—powering up the table, playing your tracks, or skipping them.
The table also doubles (triples?) as a power bank for your devices and a smart wireless charger for your phone. If you have an iPhone or Android that has wireless charging compatibility, all you have to do is put it on the table, and it's good to go. Now that's especially useful if you're hosting a party.
Don't worry about your table running out of juice (we can't believe we just wrote that). It has a fat, 6600 mAh lithium ion battery that's been built in, giving you music playback for about seven hours without having to charge. And it's lightweight enough that it can be moved—or charged—virtually anywhere in your house, weighing only about 17 pounds and standing at 25 inches high.
So pretty useful overall, we'd say. But will it mesh with your ultra-modern living room? Happily, we think so. The table is made of solid black walnut hardwood, with a heathered grey fabric covering the outside of the 360-degree speaker. Set up is a breeze: as soon as you receive the table, simply screw the three legs in, and you're ready to boogie.
It's a modern-looking coffee table with a whole lot of functionality built into it, fitting perfectly in any living room, foyer… it even works nicely as a bedroom nightstand, charging your phone wirelessly as you sleep. It used to be hard to get excited about furniture, especially an end table. Not anymore.
Every product on Fatherly is independently selected by our editors, writers, and experts. If you click a link on our site and buy something, we may earn an affiliate commission.