Smart Home Setup Tips for Wired Dads
From getting your kids out of bed to saving money on your bills, these hacks can improve your life and help you get the most out of your Xfinity network.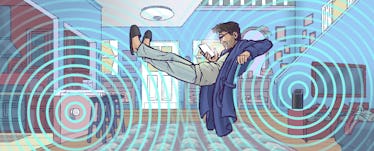 J Longo for Fatherly
This story was produced in partnership with Xfinity xFi, the speed, coverage, and control you need for the ultimate in-home WiFi experience.
The smart home is one of those rare tech promises that has truly lived up to the hype. Smoke alarms that ping your phone when they detect a fire, voice-controlled speakers that order groceries for you, and thermostats that track the weather and adjust the air flow are all very much realities. Still, having a smart home is not entirely plug-and-play. It takes a bit of work to make sure your devices are connected and set up to meet your family's needs.
To start, smart homes need a fast and reliable Internet connection — the kind provided by Xfinity xFi. xFi service includes the xFi Gateway and xFi app, making it easy to customize your settings from anywhere. And with available Gigabit speeds and reliably fast service even during peak hours, xFi delivers the fastest Internet to your devices.
Once you have reliable WiFi throughout your home it's time to connect your family's wireless devices, from smartphones and televisions to light bulbs and doorbells. With some clever hacks, you can set up a smart home that saves you time by automating your chores, lowers your bills by using less energy, and makes your home a more fun place to be. Here are some of our favorite tips for wired dads who want to get the most out of their wireless networks.
Focus on utilities first.
A smart home can save you money by tracking (and reducing) your consumption of electricity, gas, and water. It's really that simple.
Start with a good thermostat. Heating and cooling an empty home is wasteful and will cost you, but you don't have to come home to a walk-in-freezer or a sweat-lodge either. Smart thermostats know when no one's home, so they can turn off the heat or A/C and turn it back on before your normal arrival time. They also have access to weather data, so you won't use as much energy keeping your home warm on an unseasonably mild winter day. No central air? Hooking up your air conditioners and space heaters to smart plugs is a great way to get many of the same features. Smart plugs should likewise be used for anything that sucks air-conditioner-sized quantities of power — like your fridge. In other words, keep tabs on those devices that are likely to cost you the most money.
Pro Tip: Don't forget your water. While not usually a huge cost, a running toilet or sprinklers left on are not only wasteful but can easily triple your water bills. WiFi-connected sprinkler controllers access weather information, so they can cancel scheduled waterings when it rains or when it's about to rain. Solutions for in-home water management range from shower drain monitors that track your usage (and glow red to encourage you to shorten your shower) and whole-home systems that give you a bird's eye view of your water use and identify leaks before they cause expensive damage.
Know your needs for speed.
Not all Internet plans are created equal. Just as you don't need a riding mower for a half-acre yard, you don't want to pay for Internet speed that you don't need. Generally, the more devices that will be using your WiFi at once, the more speed you'll need. Luckily, xFi offers fast speeds even during peak hours and offers reliable Gig-speed Internet so everyone under your roof can stream, surf, and download to their hearts' content.
But it's not just the service you choose: hardware makes a difference too. Every Gateway offers proactive device upgrades, superior network experience, and dual-band WiFi. What does this mean? For one, when your tyke becomes a bandwidth-sucking teen (when did that happen?), or you discover the joys of streaming 4K sports, you can simply exchange your xFi Wireless Gateway for an xFi Advanced Gateway and the reliable Gig-speed Internet it can handle.
Make your home safer.
Maybe the most important things you can focus on with smart technologies are those that make your home safer. Surveillance tech is cheaper than ever and easy to install, letting you monitor your home from your mobile device whether you're there or not. Start with camera-enabled doorbells that let you see and talk to whomever rings your bell, WiFi-connected deadbolts that automatically lock when you walk out the door, and smoke detectors that push a notification to your phone when they're running low on battery. You don't need to turn your house into a police state, but a few smart security upgrades can help you sleep a little more soundly at night.
Smart Ideas: Don't want to spring for a dedicated surveillance tool? There are plenty of connected cameras that double as a quick home check-up. Most baby monitors sense movement, and most advanced ones can do so remotely. So leave it running when junior is at daycare and keep the door open. If the camera gets tripped, have your phone alert you and then check out the live stream. Ninety-nine out of 100 times it's going to be the cat…but you'll be glad you set it up for that 100th time.
Look for clever connections among unlike devices.
When all of your smart home devices are connected to a network as reliable as xFi you can do some pretty cool things. The connected smoke detector can make your light bulbs flash red if someone burns toast in the kitchen. You can set up those same lights to change colors when the your car arrives to take you and your wife out for an all-too-rare date night. How do you get to this advanced stage? Check out the settings in your apps, read instruction manuals, and search forums for fun others are having with their smart devices.
Pro Tip: The fastest way to become an advanced smart home user is to unlock the power of "routines." Geek speak for controlling multiple units at once, routines allow you to do things like turn on smart plug-connected lights, stream a yule log video on your TV, and play carols with a phrase spoken to your smart speaker ("Merry Christmas" would be appropriate in this case). To do this, you need to dig into the settings of your controlling device — the speaker, as in this case, or a phone, tablet, or smart display. Once you get the hang of it, your house is only limited by your imagination: Make speakers around the house sound an alert when the pizza arrives by connecting the food delivery app to your smart speaker setup, or enable location settings on your phone and automatically deactivate your security system when you walk in the door.
Schedule offline time.
A wired home is a responsibility for parents, who shouldn't just let their kids (or themselves) bask in the connectivity by wasting away in front of the TV or other screens. Set rules and enforce them with sleep, pause, or timer functions on your smart devices whenever possible. Make sure late night and any family time (dinner, Sunday mornings, or a board game night) are off-limits for wireless. The easiest way to do this is directly through the xFi app. Simply open it up and navigate to the devices section. You'll see a list of every device connected to your network and with a few taps you can temporarily cut them off from your network. You can also create profiles for every member of your family to quickly pause all of their devices at once. It's an easy way to make dinner time device-free and, you know, have actual conversations with your wife and kids. And with bedtime mode, you can set schedules to make sure your kids are sleeping, not surfing, while you and your wife stream movies on the couch.
Bring the connectivity to your yard.
A smart home isn't complete without the porch, patio, and backyard getting in on the action. First, you need to get your signal out there. If your Gateway is at the front of the house, it might not reach all the way out back. An easy remedy to this problem is with xFi Pods. Simply plug in the small, hexagonal devices (they come in packs of three or six) to outlets near the back of your home and use the xFi app to connect them to your Gateway. The backyard is no longer a dead zone, it's now home to the connected devices that'll make your house the place to be when summer finally rolls around.
Smart Ideas: What do you do with your newly wired yard? Think about a backyard blowout and get your grill, sound, and entertainment in order. Start with a WiFi grill-smoker combo that lets you fire it up using your phone, automatically adjust settings for a particular recipe, and gather real-time data on how hot the center of that brisket is. Next up, set up a proper array of WiFi-connected speakers for tunes to reach every corner of your yard. Finally, throw in a wireless projector for backyard movie nights, and your summer party space will be complete.
Ditch the sound system; set up a home audio network.
The explosion of low-priced, but high-quality Bluetooth speakers should have us all rethinking the one-stop 5-speaker and a woofer solution for all sound needs. On the simplest level, it's easy to put a smart speaker in every room, connect them all to your xFi network, and play the same song all over the house. You can also use them as intercoms that save you from bellowing that it's time for dinner (or, if you have teenagers, to get out of bed at noon on a Saturday). But be careful: None of these devices come with a feature that prevents your kids from playing "Baby Shark" on repeat at max volume. Don't say we didn't warn you.
Smart Ideas: When setting up a home audio network, think about your different audio needs and dedicate different speakers to them. Connect a Bluetooth record player to your best speaker and rediscover your vinyl collection. Catch up on podcasts by streaming them to a bathroom speaker while you shower. Keep the classic setup up in your living room with speakers and a woofer tied to the TV for epic game days and movie nights.
Remember, not all smart devices are equal (not by a long shot).
It will be tempting to use the money you save on your bills to add even more devices to your WiFi network. But for every WiFi-connected meat thermometer that sends a push notification when the chicken is done cooking there's a WiFi-connected refrigerator that tells you the weather or a toilet that you can flush with your smart speaker (no joke). Much like their analog counterparts, it's easy to collect digital devices that clutter your house and don't make your home any smarter.
Pro Tip: How do you know something's a gimmick that you won't end up using? Buy it and try it. You'll obviously want to look into the specific policies before you pull the trigger, but most retailers will let you return devices you aren't crazy about, and some manufacturers offer even more generous warranty terms. You'll only know if you need that gizmo if you give it a solid multi-week shake (depending on the warranty). Not using your smart water bottle to keep hydrated? Send it back and put the money you get back toward the next smart home gadget that piques your interest.
This article was originally published on