The Equipment You Need to Build a High-Tech Smart Home Gym
From treadmills to kettlebells, classic gym equipment is going high-tech.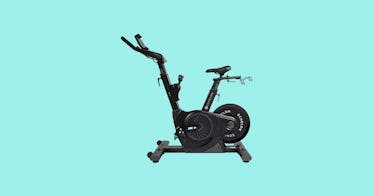 If your home gym is made up of a treadmill you bought during the Bush administration and weights that double as a tetanus risk, it's time for an upgrade. And even if it isn't, there are tons of devices in the nascent smart home gym category that will tempt anyone who exercises at home.
Wall-mounted video slates from two-syllable startups—Mirror, Tempo, Tonal—have gobbled up much of the attention. After all, they're sleek, stylish, and have features like artificial intelligence and video tracking. They're also quite expensive and, for the experienced gym rat, a potentially unwelcome change of routine.
But you don't have to adapt to a brand-new kind of machine to reap the benefits of a smart home gym. A slew of more traditional gear, from treadmills to kettlebells, has been outfitted with tech that allows you to track, customize, and maximize your at-home workouts. Here are some of the best options.
Every product on Fatherly is independently selected by our editors, writers, and experts. If you click a link on our site and buy something, we may earn an affiliate commission.
This article was originally published on