Smart Devices That Make Sense for Families
Turn your home into a connected castle.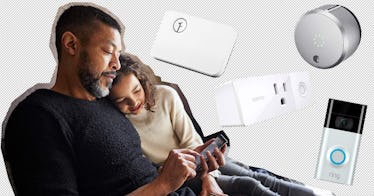 The world is awash in smart devices. WiFi connectivity has been thrown into toothbrushes, washing machines, microwaves, and even toilets. This onslaught of tech can make a home a plugged-in palace, a connected castle, or — if you don't make smart purchases — a confusing mess.
The devices below can save busy families time, money, energy, or all three, and a lot of them are just plain fun, particularly if you enjoy keeping tabs on your digital devices. Before buying, just be sure you're clear on what problems the tech is solving and how it will fit into your existing setup. Then plug, play, and watch your quiet home become a hub of connectivity.
Wemo Mini
Smart plugs are a painless way to make anything with a plug smarter, and the Wemo Mini is the best smart plug around. With the companion app it's easy to set schedules, monitor energy consumption, and control the plug with your smart speaker of choice. There's also Away Mode, a clever setting that randomly turns the plug and any lamp plugged into it on and off, making it seems as though someone's home even when the house is empty. And while all this tech is great, our favorite feature is probably that fact that, unlike its less svelte competitors, it doesn't block the other outlet when you use it.
August Smart Lock Pro + Connect
With a simple screwdriver, it's easy to pop off the indoor-facing half of any single deadbolt and install this networked upgrade. Once you've connected it to your home network, your front door gets a lot smarter. Coming home with a bunch of groceries? The lock senses the phone in your pocket and unlocks automatically, so you can walk in without fumbling for your keys. It will also do the opposite when you head outside and forget to lock the door behind you. The app also includes options to grant permanent or temporary access to neighbors, family, or the babysitter. It also keeps a log of who comes and goes, so your future teenagers will have a hell of a time breaking curfew.
Ring Video Doorbell 2
In addition to being, well, a doorbell, the camera on this battery-powered or hard-wired WiFi device makes it a supremely useful digital gatekeeper. When the button is pressed, the Ring app sends your phone a notification and broadcasts video from the front door. It also lets you talk to whoever rang, be it your kids arriving home from school or the delivery guy who wouldn't have left the packages if no one had answered. It's not quite as satisfying as your doorknocker in the shape of a giant lion with a ring in its mouth, but being able to keep an eye on your home from around the world is worth the extra peace of mind.
Philips Hue 2-Pack Premium Smart Light Starter Kit
Sixteen million colors, WiFi, voice activation, and capacity to be integrated into other aspects of your smart home? That's the stuff for modern families, and this two-pack of Philips Hue bulbs does it all. The lights have such tricks as the ability to automatically turn on at sunset or flash when your Uber arrives. They also last a really long time: Each bulb is estimated to last a whopping 25,000 hours.
Sonos One
"The Smart Speaker for Music Lovers" is Sonos's polite way of saying that its One is a smart speaker that actually sounds good. First-party smart speakers have impressive tech built-in and they're generally nice to look at, but their quality as speakers is usually just OK. The One combines the sound quality Sonos is known for with the intelligence of Alexa (and, later this year, Google Assistant). The One also connects to any other Sonos speakers you have, an easy way to add surround sound to your living room or wake your kid up by blasting "Baby Shark" through the entire house (though we don't recommend it).
iRobot Roomba 690
It used to be that vacuuming required lugging out the upright, unspooling the cord, plugging it in, turning it on, and immediately terrifying the dog. Now we can just press a few buttons on our phone or ask Alexa, and a connected robotic vacuum does the work for us. The Roomba 690 is one of the most dependable options. It boasts sterling reviews and a moderate price that have made it the number one seller in its category on Amazon. It comes with a ton of features — three-stage cleaning, sensors that detect denser areas of dirt, and automatic recharging — that will give you confidence that your floor is clean. And if your carpets and hard floors need some extra attention after a birthday party, just tap a few buttons on your phone and enjoy some well-earned couch time.
Nest Thermostat
Google-owned Nest isn't just smart because it connects to your home wireless network and lets you adjust the temperature on the fly. It's smart because it learns. After a few days, it will start automatically adjusting the temperature in your house based on when you typically leave and arrive home. The Nest keeps tabs on the weather to help you save money, sends reminders to change air filters, and sounds an alarm when the furnace is acting up. With rebates available from utility companies around the country, the cost of the Nest could be fully or partially subsidized, meaning this thing can pay for itself even before your bills go down.
Nest Protect Smoke and Carbon Monoxide Alarm
Smoke and carbon monoxide detectors are essentials for any home. Nest's take goes beyond the basic detection and piercing sound functions. Instead of a panic-inspiring alarm, the Nest sounds a calm but persistent tone and has a friendly voice that says what the situation is, so burning toast doesn't lead to a mild heart attack. It tests itself 400 times a day and glows a soft green when the lights go off to let you know everything is OK before bed. It's a less alarming alarm that actually keeps you safer and, thanks to the magic of WiFi, can send notifications anytime something happens.
Abode Essentials Starter Kit
Wanna be the kind of person who installs his own security system? The Abode makes this task particularly easy. This kit comes with a door and window sensor, remote key fob, and motion sensor, all of which communicate with each other via WiFi. With the app, you can arm and disarm the system, integrate other smart devices into your security setup, and view the timeline of events recorded by the system. You do have the option of adding a service that will call an Abode dispatcher, but it's not required. And there are plenty of options, from glass-break sensors to 1080p cameras, to meet the security needs of any homeowner.
Nanit Baby Monitor
Baby monitors that capture HD video are a dime a dozen these days. Night vision, thermometer, and integrated white noise machine are also pretty common features. What sets the Nanit apart is Nanit Insights, a $10-per-month service that unlocks its computer vision. With just the camera, the Nanit will process information about how your baby sleeps, including how long they're asleep and how long it takes them to fall asleep, and use it to produce suggestions for improving sleep quality. Those who pay for Insights can also give access to the video feed to an unlimited number of users just in case your in-laws are going through some baby withdrawal after the holidays.
Rachio Smart Sprinkler Controller
Having a lawn is awesome: where else would you set up the Slip 'N Slide, build snowmen, or play catch? It's also a pain, however, to keep your lawn looking good and, you know, not dead. This device replaces the current box that's probably in your garage and connects your sprinkler to your WiFi network. That means you can tell it to start watering all or part of the lawn with your phone or Alexa. The Rachio app collects information from you about the kind of grass you have and sun exposure and, in combination with information on weather data pulled from the Internet, adapts your schedules to best suit what your grass actually needs. That means big savings on your water bills — even before the incentives that many water utilities will offer you to upgrade your system.
Hatch Baby Rest
This combination night-light and sound machine is designed for the nursery. While your kid snoozes, you can adjust the color and intensity of the light and choose from a library of soothing sounds. You can also create routines with expert-recommended sound and color combinations for nap time and bedtime that can help establish consistent sleeping patterns. And when your baby grows up, the Hatch is an excellent multicolored upgrade to the age-old lava lamp.
This article was originally published on