Best Sloth Toys
There's a reason kids love these sleepy animals.
by Briana Haas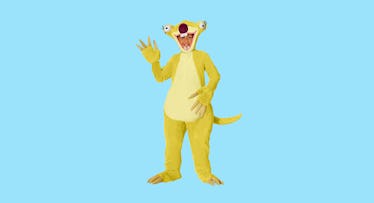 What's better than a sloth, you may ask yourself? Why, a sloth bear, of course. From Sid the sloth, to Fingerlings sloths, these sleepy critters were popularized by the Ice Age films.
With a natural expression that looks like a smile, the mere sight of a sloth has been known to bring people to tears. Why? Some say it's because these adorably lethargic animals succeed by doing less – spending up to 15 hours a day snoozing in treetops – while the rest of us rush through our day-to-day responsibilities.
See more: Best Teddy Bears
For kids, however, the appeal of the sloth is more about Sid from Ice Age and less about the mammal's laid-back approach to life. Since it is illegal to have one as a pet in the U.S., we've rounded up some fun sloth-inspired items for your kids.
Yes, that's right, a dancing sloth. Babies learn about cause and effect when they press the buttons on the sloth's feet to hear songs and phrases about the alphabet, numbers, opposites, and colors.
This Sid the sloth jumpsuit zips up the back, has a stuffed tail sewn to the back of the suit, and a soft-sculpted face on top. It's what sloth dreams are made of.
This stuffed sloth measures at around 12 inches. We particularly approve of his facial markings and long toes.
The fluffy sloth comes in ivory or brown and you can order one as large as 27.5 inches. Did we mention it makes an awesome pillow?
The costume includes brown fuzzy mitts with sloth claws and a brown and pink dress with a hood. Tree not included.
Kids can recreate the magic of the movies with everyone's favorite prehistoric pals Sid, Manny, Diego, and Scrat. Your child won't want to leave the house without them. That's either a good or bad thing.
Front and center is Flash the sloth from Zootopia, of course. He's waiting for your kids at the DMV.
When Kingsley gets tired, your child can pet him to sleep. Collect all the Fingerlings so they can all sing together. You know you want them. Oh yes you do.
At long last, kids can act like a sloth and be one too. The wearable hooded blanket turns into the lovable mammal with pockets as claws to keep hands warm.
The adjustable shoulder straps are perfect for choosing the appropriate length to fit your child's height. Matching lunchbox and water bottle sold separately. It measures 11.5″(L)×8″(W)×16″(H).
Every product on Fatherly is independently selected by our editors, writers, and experts. If you click a link on our site and buy something, we may earn an affiliate commission.
This article was originally published on