This Tree Swing Can Keep Almost The Whole Neighborhood Airborne
No more fighting over who gets to swing.
by Dave Baldwin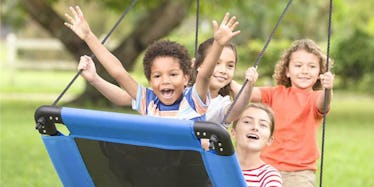 It's a classic playground conundrum: Too many kids, too few swings, and no time for good manners. With this platform tree swing you can accommodate one large family or the children of several smaller ones. If you're not winning the playscape arms race in your suburban neighborhood, you may as well put up the "for sale" sign.
RELATED: The Best Baby Swings, Bouncers, And Rockers to Soothe A Wailing Kid To Sleep
The not-at-all-dangerous-looking SkyCurve Platform Swing is a home version of the pirate ship amusement ride. It holds up to 4 kids and 400 pounds (or you and a buddy) on a 5 x 3-foot polypropylene mat similar to that of a trampoline. And because you know that one of the older kids is going to see if it can really go 360-degrees, its metal frame is padded to prevent further injury. Make sure to also order some easy swing hangers — because putting this stuff together shouldn't be the inverse of using it.
This swing is designed for children 5 and up, and can be ridden sitting, standing, or lying down (with Steppenwolf playing in the background or without.)
This article was originally published on