The Best Single Malt Whiskies For a Special Occassion
Want to toast a special occasion? Pick up one of these spectacular single malts.
by Nicholas McClelland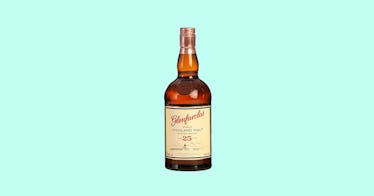 If we do not stop to celebrate life's special moments, then what makes them special? Whether it's a new job, a child's graduation from kindergarten, an in-laws' anniversary, or the finish of a particularly tough week, celebrations should ensue. A ceremonial toast is always a good way to mark an occasion and spread the cheer. While Champagne may be the more traditional celebratory tipple, we prefer to toast with single malt whisky. Yeah, it's got a bigger kick. But it also lingers much longer on the palate so you can savor that success a little longer. Buy the right bottle and it feels even more significant. If you have a special occasion on the horizon, or just want to pick up a nice bottle to savor a little moment, here are five excellent whiskies to try.
Glenmornagie 18
Every time we drink a glass of Glenmorangie 18, it feels like a win. The highland maker ages the whisky for 15 years in American white oak casks, then separates a portion for three years in Oloroso sherry casks, while the remainder lingers behind. At the end of those 36 months, the parts are reunited to create a deeply complex whisky with notes of dates, figs, nuts, vanilla, and a subtle, satisfying smoke.
The Macallan 12 Sherry Oak Cask
Easy to find if you're out for an anniversary or about town with friends, The Macallan 12 Sherry Oak Cask is a sumptuous whisky at accessible price. This Speyside juice ages for a dozen years in Spanish Sherry casks sourced from bodegas in Jerez giving it lovely notes of oak, fruit, and spice as well as a luscious sweetness.
Nikka Yoichi Single Malt
Japanese single malts can be hard to find at your local shop. But we think Nikka's Yoichi Single Malt is worth a bit of searching. From a peat-like smoke, imparted from the coal-fired process, emerge flavors of citrus, kiwi, ginger and a touch of leather, making it a luscious dram and one of our absolute favorites. Simply finding a bottle is worth a little celebratory tipple.
Kavalan Pedro Ximenez Sherry Single Cask Strength
Taiwanese maker Kavalan produces some of best whisky in the world, and our favorite, the Solist Pedro Ximenez Sherry Single Cask Strength, is a jawdropper (as its price.) Beautifully balanced, flavors of mixed nuts and cherries play off bitter-sweet chocolate and spice.
Glenfarclas 25
A dear friend gave us a bottle of Glenfarclas 25 to take the sting out of an upsettingly round birthday. It worked! Family-owned since 1865, Glenfarclas ages the whisky in Oloroso sherry casks chosen from a single Spanish bodega. It is a delicious, a classic sherried whisky, with flavors of fruit cake, spice, and a hint touch of cocoa.
This article was originally published on