Can't Find Pappy Van Winkle? Here are 5 Similar Bourbons to Try
If you find one of these bottles, don't pass it up.
by Nicholas McClelland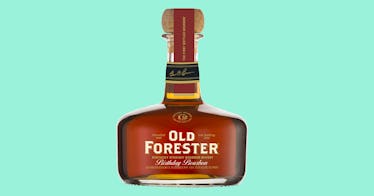 So you didn't win your liquor store lottery for the one and only bottle of Pappy Van Winkle bourbon they got this year. It's okay, neither did we. In fact our shop didn't get any at all.
It's cool. And here's how we feel: Pappy is vastly overrated. That's right. We said it. Yes, its yummy and we love it… at the retail price. Maybe even at triple. But why would you pay 15-plus times the money for a single, solitary bottle when there is so much great whiskey out there for so much less? Of course the answer is to show off the fact that you can blow a cool $3,000 on one bottle of bourbon. It's a trophy.
If that's how you do you, who are we to judge. But for that same $3,000, you could buy several stunning, rare bottles for your bar. You may still have to pay a healthy markup unless you get lucky at the shops, but you'll end up with a wealth of flavor and the variety and volume to entertain your palate and your friend for much longer than you would with a one measly bottle of Pappy Van Winkle 23 Year Old Family Reserve. Trust us.
So, without further ado, here are five trophy-worthy bottles of bourbon beyond Van Winkle.
Old Forester Birthday
Every year Old Forester drops their Birthday Bourbon on September 2, the birthday of the label's founder George Garvin Brown, and every year we spend a decent bit of time trying to track down a bottle. It is our absolute favorite, and while year to year it's a little different, Birthday is always a rich, complex glass. If you can snag a bottle at the $100 retail price, go ahead and buy a Powerball ticket because you've won big and need to press your luck.
William Larue Weller
One of the annual releases from the Buffalo Trace Antique Collection, The William Larue Weller is a bottle for consumers who like big flavors and high alcohol content (around 125 proof.) Named for an early Kentucky whiskey man, it's said he used the phrase "Honest Whiskey at an Honest Price" to market his wares. Sadly today, it's hard to find the bourbon that bears his name for a reasonable sum — a problem that is likely to get worse as this release was named 2019 World Whiskey of the Year by Jim Murray's Whiskey Bible.
Eagle Rare 17
Another player from the Buffalo Trace Antique Collection, Eagle Rare 17 is less in your face than the Weller and drier but is still big on flavor. A bottle of the Rare highly desirable and while the retail price is just under $100, you're likely going to pay a bit more for it. This gently aged, 17-year-old bourbon saunters gently around your palate with flavors of leather, tobacco, and spice.
Willet Family Estate 13-Year-Old Single Barrel Bourbon
Stumble upon a Willett 13-year bourbon and you're either in Kentucky or you've found a unicorn. It's typically a dark, dramatic dram — a bit of shock and awe for your mouth — but because each bottling is from a single barrel, each is a bit different.
Four Roses Limited Edition 2018
Four Roses Limited Edition 2018 hit shelves early this fall and bottles are becoming increasingly scarce. This year's version commemorates the 130th anniversary of the distillery and smacks the palate with fruit, mint, cinnamon, and oak. If you see a bottle snap it up and put it on your bar in a place of honor.
This article was originally published on