Shuri, Wonder Woman, & Batgirl: 12 Kick-Ass Female Superhero Toys
From action figures and Power Wheels to stuffed figures and DIY comic kits.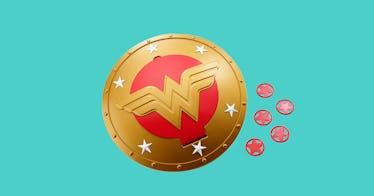 Maybe it's Shuri, Wakanda's panther-fisted, one-liner-spouting science-whiz. Or Wonder Woman, Themyscira's sword-and-shield bearing, nazi-kneeing defender. Or Supergirl, with her powers of strength and flight. Whichever female superhero your kids are obsessed with, there's a toy to match, one that enables them to have fun and role play as a powerful female character. Here, then, are 12 great female superhero action figures and playsets to check out.
DC Super Hero Girls Action Figures
Talk about "squad goals". This set includes nine six-inch tall figures of Wonder Woman, Supergirl, Batgirl, Harley Quinn, Poison Ivy, Bumblebee, Katana, Starfire, and Hawkgirl. They're all dressed in costume and equipped with an accessory — Wonder Woman has her golden lasso; Harley Quinn has her giant mallet, etc. — ready to kick-plastic in battle.
LEGO DC Super Hero Girls Wonder Woman Dorm
This 186-piece LEGO kit includes Wonder Woman's bed (with secret compartments), wardrobe (for the Lasso of Truth), and an 'invisible' motorcycle. Don't worry – the motorcycle is a real accessory, not just cleverly packaged air.
Power Wheels DC Super Hero Girls Dune Racer
Give your superhero obsessed spawn some on (and off!) road practice with this rechargeable four-wheeled super buggy. The speedometer tops out at 5mph, so you don't have to worry about anyone street racing just yet, while the Monster Traction system allows for easy navigation of dirt, mud, and gravel to make sure no villain gets away.
DC Super Hero Girls Super Nail Art Kit
Fighting crime means getting a little dirt under your fingernails. Bring them back to life with these bold, metallic designs featuring Supergirl, Batgir,l and Wonder Woman, which adhere directly to nails.
DC Super Hero Girls Comic Book Design Set
This comic design kit features pre-drawn illustrations that need to be colored, and dialogue bubbles that need to be scripted. It's up to your little ones to let loose with the included sticker sheets, crayons, pens, and other accessories — and show normal bedtime stories who's boss.
DC Super Hero Girls Mini Plushes
The students of DC's Super Hero High are here, in 10-inch plush form. They're perfect for cuddling, or crime-fighting, with soft-to-the-touch fabric featuring satin capes, felt hair, and other dolled-up decor.
DC Super Hero Girls Batgirl Utility Belt
When Commissioner Gordon shines that Bat Signal in the night sky, you've got to be ready. This utility belt set features a six-snap closure to accommodate all sorts of super hero sizes, and lights up with the push of a Bat symbol. Several secret compartments also hold a Bat phone, coded messages, and three mini Batarangs.
DC Super Hero Girls Walkie Talkies
Turn the dials on these wrist-based communicators, and you can connect with a super hero friend up to 30 feet away. Each walkie talkie is themed to a specific DC Super Hero Girl, which means you can stay in touch from homeroom all the way to the bus stop to make sure no trouble goes down on your watch.
DC Super Hero Girls Wonder Woman Shield
Designed to be worn on your forearms (just like Wonder Woman!) the shield launches plastic discs more than 20 feet with the push of a button. It's perfect for thwarting evil, or defending yourself during Nerf wars.
Marvel 6-inch Shuri Figure
She's become one of the most inspiring female super hero characters in the past decade, thanks to her brains, braun, and take no B.S. attitude. As a main character in the Black Panther/Avengers universe, Shuri is a genius, a warrior and a kind, loving sister. Who better to guard your kid's room, Wakanda-style?
Marvel Black Widow Stingers
Elite intelligence agent Natasha Romanov (aka: Black Widow) is a super spy with toughness to spare. Help her defend the earth with these finely-tuned wrist/hand launchers that slip on and send push-button projectiles soaring up to 10 feet away. They're perfect for any encounters with Thanos.
Marvel Infinity War Avengers Charm Bracelet
Accessorize like an Avenger with this 8-inch bracelet, which features hooks for up to 13 individual super hero charms. The likes of Prince T'Challa, Groot, and Spider-Man, along with Infinity Stones and a mini Mjolnir can be your kid's — and they don't even have to travel the galaxy to find them.
This article was originally published on