The 8 Best Luxury Ride-On Cars For Kids That Let Toddlers Roll In Style
Battery-powered cars have come a long way from Jeeps and pink Corvettes.
by Liz Newman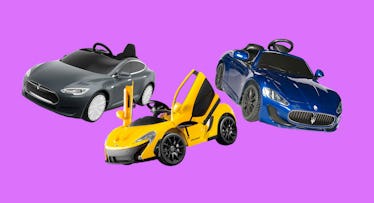 Arguably one of the most exciting gifts a child can receive from their parents is a new car. And that's no truer at age four than it is at 16. While the choices used to be limited to Jeeps and pink Corvettes, there's now a fleet of shrunk-down ride-on luxury cars kids can drive, including Masserattis, Range Rovers, and Bentleys. Pick a favorite ride on the road today, and there's a good chance you can buy a battery-powered version of it for kids.
RELATED: The Best Scooters, Bikes, and Cars for Kids This Holiday
Most electric ride-on cars are made for young cruisers age two to seven. They usually feature a 12-volt battery that gets between two-and-four hours of casual drive time, need 10 hours to recharge, and often top out at around 5mph; some also include remote controls so that parents can do the actual driving from a distance.
ALSO: The Best Kid-Size Go-Karts, ATVs, and Audis (Oh, And a Food Truck)
And when it comes to amenities, buckle up: expect working headlights and turn signals, leather seats, and power steering. No luxury seems to be spared. At least on these miniature replicas of eight of the world's most luxurious cars, all of which are available for under $500.
Maserati GranTurismo Sport
A base model 2017 Maserati GT starts at $132,825 and rocks a top speed of 185mph. The licensed 12-volt kid's version, on the other hand, runs a bargain $360 and maxes out at 4mph. It comes with a remote control and is loaded with working headlights, power steering, an adjustable seatbelt, MP3 input, and a serious LED lighting system that ensures it pretty much glows in the dark on nighttime cruises.
Bentley GTC
The name of the game with this replica ride-on Bentley GTC is authenticity: The iconic grille, badges, quilted leather interior, and signature "Bentley floor mat" are all standard. And while it may be battery powered, the engine sounds real when you turn it on. It also features working turn signals, LED headlights, and a remote control if your 2- to 4-year-old (up to 55 pounds) begins driving erratically around the cul-de-sac.
Range Rover Sport
For the pint-sized adventurer who enjoys shuttling friends to the mailbox, this insanely realistic Avigo Range Rover Sport is equipped for two. Not only can it hit 4.5mph in forward or reverse (and should get between 2-4 hours of drive time), it'll also impress the neighbors with its start-up engine sounds, working automatic doors, and chrome wheels and tailpipes.
Porsche Roadster
This 12-volt Roadster is all about high-tech safety: In addition to an adjustable five-point safety seatbelt similar to that of a stroller, there's a "soft start and electric brake system for gradual acceleration and reliable braking." It boasts supple leather seats, LED wheels, and a sizeable trunk, all things considered. It drives in both forward and reverse, has a top speed of 5mph (both manually or with the 3-speed parental remote), and can run for 1.5 hours on a single 10-hour charge.
Ferrari Spider
The Barbie Corvette's got nothing on this souped-­up Spider. The upgraded 2017 model in hot pick comes standard with two motors, three speeds, LED headlights, and a push-start ignition. Newer over-­the-­top features, however, include an upgraded electric brake system, "smart battery" to prevent overcharging, fog and tail lights, top opening doors, and even a USB-compatible sound system for rocking out to Kidz Bop.
Radio Flyer's Tesla Model S For Kids
For only $71,000 less than the grown-up model, your 3 to 8-year-old (who weighs less than 81 lbs) can zip around the neighborhood in a miniature, battery powered replica of the Tesla Model S. The base model's equipped with all the bells-and-whistles that kids have come to demand in their luxury vehicles: Forward and reverse, a trunk, a working horn and headlights for night riding, and a sound system/audio jack.
McLaren P1 Roadster
British car manufacturer McLaren gets in on the pint-sized action with a mini version of its $1.35 million P1 Roadster, a battery-powered replica of the speedy hybrid that can accelerate from zero to 60 mph in only two seconds. It's a single-seat convertible in Volcano Yellow with an electric drivetrain, three-speed transmission plus reverse, and dihedral butterfly doors guaranteed to impress everyone in first grade. It also comes tricked out with working lights, a functional speedometer, push-button ignition, and a sound system loaded with all their favorite nursery rhymes.
Lamborghini Aventador
This sleek matte black 12V Lambo for kids ages 2- to 4-years-old boasts "aerospace styling," three separate speed settings (plus reverse), remote control, and USB/SD ports for listening to music through a built-in speaker.
This article was originally published on