This Shower Wine-Glass Holder and Speaker Is Decadence, 2020-Style
by Lilian Ogbuefi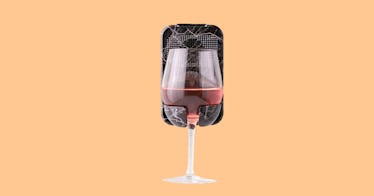 Parenting is all about finding small pleasures where you can. It's also about multitasking. And having 10 minutes of alone time a day — if you're lucky — in which to get clean and listen to music and drink. The Wine Bath Bluetooth Speaker by Gabba Goods was made for us: the waterproof Bluetooth speaker/mic/wine holder is the random gadget we didn't know we needed.
With dual suction cups that attach firmly to the wall of your bathroom, the extended holder can fit just about any wine glass. And the Bluetooth speaker is quality (for its size), delivering deep bass stereo sound with zero distortion, all while being water-resistant, with an IPX4 waterproof rating (ie., resists pretty much all splashes). The track selection and volume buttons are secured at the top so you can control your songs without stepping out of the shower. And Gabba Goods does not discriminate, so both iPhone and Android users are taken care of. The charge lasts for up to five hours of playtime, if you're that rare, lucky parent who has more time to spend in your bathtub.
But here's the fun part: It has a built-in mic that supports hands-free calling in case you get the dialies while you're in there.
On a responsible note, the speaker is great for playing music for bath-averse kids — and parents averse to bringing phones near the tub. A $30 gadget that does so many things is the kind of workhorse that a parent in 2020 needs by their side.
Every product on Fatherly is independently selected by our editors, writers, and experts. If you click a link on our site and buy something, we may earn an affiliate commission.