3 Shower Beer Holders That Make It Easy to Enjoy a Brew in the Shower
Drinking a beer in the shower is one of life's great pleasures. These holders make the experience that much better.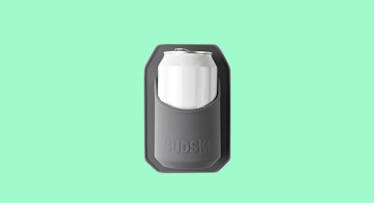 You probably don't need us to tell you how refreshing a shower beer is. There's plenty of scientific evidence that drinking a shower beer can improve creativity and productivity, but let's be honest, that's not why it's so delightful to crack one while you lather, rinse, and repeat. A shower beer holder is a must-have accessory for anyone who wants the finer things in life (and doesn't want to spill any precious liquid down the drain).
We found three great shower beer holders that provide a great place to rest your can or bottle between sips. They look different and use different mechanisms to stick to the wall, but they're all better than balancing your beer on the edge of the tub and hoping for the best.
The Sudski Shower Beer Holder doesn't use any kind of suction cup to stick to your shower walls. Instead, it uses patented technology to securely grip to any kind of glossy surfaces such as glass, mirror, marble, glazed tiles, and laminate. It's sized to fit standard 12- and 16-ounce cans perfectly.
The suction cup on this shower cupholder can be tightened and loosened with a turn of the frame surrounding it, a feature that makes us more confident attaching it to the wall and less worried that it won't reattach if we need to move it around. The spring that holds your beer is made of food-grade stainless steel that will resist rust, so it's great for damp environments.
A standard can or bottle of beer fits nicely into the SipCaddy, but the open base on the beer holder means that it can also become a shower wine glass holder on those occasions when a shower rosé sounds nicer than a shower IPA. The suction cup shower caddy itself is rated at seven pounds when installed correctly, so it'll have no problems supporting your drink.
Every product on Fatherly is independently selected by our editors, writers, and experts. If you click a link on our site and buy something, we may earn an affiliate commission.