Yeah, You Should Keep a Utility Shovel in Your Trunk
Need to dig yourself out of a ditch? Chop down a tree? Fend off a roving horde of the undead? Grab a utility shovel.
by Ian Centrone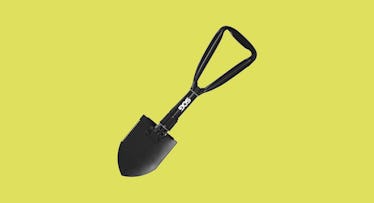 The trunk of a car is its own sort of tool shed. And, among the jumper cables, road flares, tie-downs, bungie cords, first aid kits, and other emergency supplies there should be another woefully under-appreciated tool: the car shovel. A multi-tool in a shovel's body, a good utility shovel can dig your car out of trouble. But it's also handy for chopping away branches, clearing pathways, and battling roving hordes of the undead that happen to ruin your road- or camping trip, earning it another name — a survival shovel — and a place in the pantheon of car essentials.
A far cry from your grandma's gardening shovel, the best utility shovels are made of high-grade materials like carbon, have a wide handle and sharp spade point, and are collapsible or folding. They also feature rows of serrated teeth or a beveled edge so you can hack or saw away when necessary. In short, they belong next to your tire iron and spare. Here, then, are four excellent options.
Made of high carbon steel, the folding shovel is one of the best values around. Users praise its unique triangular handle, which makes it sturdy and easy to operate. Additionally, the tempered blade is lined with a row of sharp teeth, ideal for slashing through whatever gets in its way. Stow it away in its ballistic nylon sheath, throw it your car, or strap it to your belt loop if you're on the move. Either way, it'll quickly become an indispensable favorite.
The sharpened shovel serves as dual-purpose tool, with one concave edge great for chopping, and another serrated edge perfectly suited for all of your sawing needs. It also boasts an ergonomic, injection-molded nylon handle that's 30 percent fiberglass, making it light but virtually indestructible. Especially popular with campers and outdoor enthusiasts, it's earned high ratings from legions of satisfied fans.
Built to tackle the extreme, it was specially designed based on feedback collected from intrepid outdoor enthusiasts. This small shovel comes with all of the bells and whistles, including a slew of supplemental tools (think hexagonal wrench, pickax, nail extractor, fish scaler, and more). The military-grade multitool is built from high carbon steel, making it completely wear-resistant and hard-wearing. And thanks to its ingenious extension bar, you can adjust the length based on your height and even use it for stand-up digging, a particularly nice feature if you find yourself needing a car snow shovel.
In addition to being a heavy-duty shovel, the FiveJoy Military Folding Shovel is also outfitted with an ax, hoe, hammer, rescue knife, wire cutter, bottle opener, firestarter, whistle, glass-breaker, paracord, and more. The blade and knife are made from heat-treated solid carbon steel and the knife itself boasts aerospace-grade aluminum. Measuring a smidge more than 21 inches in length when fully extended, the lightweight wonder is just over 2 pounds. It's safe to say calling this bad boy versatile is an understatement.
Every product on Fatherly is independently selected by our editors, writers, and experts. If you click a link on our site and buy something, we may earn an affiliate commission.