ShotTracker Helps Basketball Players Keep Tabs Their On-Court Stats
Not only does it record shots, makes, and misses, but it's also loaded with tons of elite drills.
by Dave Baldwin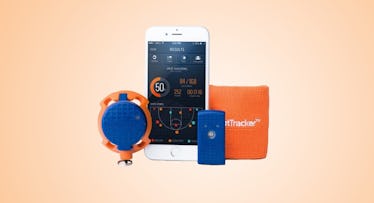 Despite what Allan Iverson says, there's only one way for a kid to get better at basketball: practice. Drills. Free throws. Games of "horse" and "around the world." And if they are putting in the work, they'll want to know how good they're getting. But kids aren't the best judge of hard work — or progress. That's where ShotTracker comes in. No, it's not a designated driver app for your smartphone. Instead, the $99 wearable tracks shot attempts, makes, and misses, but also coaches kids up in the process.
RELATED: The Best Activity And Fitness Trackers For Parents
ShotTracker's actually made up three parts: A water-resistant motion sensor that's worn on the shooting arm and records shot attempts; a net sensor that tallies makes and misses; and a smartphone app that not only monitors all the stats in real time but also displays where on the court a player's game is the strongest. Hit 25 straight treys from the top of the key, and you'll see a "25/25," "75 Points Scored," and the time it took you do it. The set comes with a charger and washable wristband (in which to put the sensor), but for $20 extra you can upgrade to a breathable mesh full arm sleeve. For $50, you can get an elite compression shooting shirt.
In addition to doing all that counting, ShotTracker also plays the part of coach ⏤ mind you, one who doesn't make you run full-court sprints when you miss a free throw. It comes pre-loaded with hundreds of pro-designed drills and workouts, all engineered to make practice sessions more fun and effective.
And finally, if you're also coaching your kid's rec league squad and want to keep detailed stats on every 5-year-old who chucks the ball, there's a much more expensive (as in $3,000 more) ShotTracker TEAM version that uses shoe and court sensors, and a special ball to monitor live action/stats on your tablet.
This article was originally published on