This Rugged Diaper Bag Will Become Your New Daily Carry
Don't think of it as a diaper bag. Think of it as a rugged weekender that just so happens to have space for diapers and bottles.
by Dave Baldwin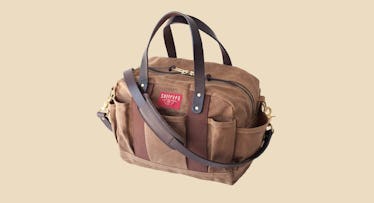 There's been a big push over the past few years to make diaper bags cool for dads ⏤ and not just the hyper-masculine, military-style tactical bags seemingly designed for actual combat. No, regular diaper bags that everyday guys feel comfortable carrying, be they filled with bottles and rash cream or gym clothes and a MacBook. They're usually multifunctional, rugged in appearance, and sold in muted neutral colors. Sometimes, as is the case with the handsome new Sherpapa James bag, they're even randomly made by the Spanish teacher from Glee.
Well, not as much 'made by' as the brainchild of. Launched last year by actor Matthew Morrison and his buddy Zach McDuffie, Sherpapa is an adventure lifestyle brand targeted toward outdoor dads who aren't necessarily ready to trade cool for a pair of Air Monarchs. And while they're limited collection ranges from "Papa" hats and baseball tees to camp cups and handmade canoe paddles, the signature piece is the Sherpapa Gear Bag.
Billed as a multi-use diaper bag ⏤ although you'd never think diaper by looking at it ⏤ the James is a waxed cotton duck canvas carry-all with leather handles and a detachable shoulder strap. Somewhere between a toolkit, overnighter, and a medical bag, it measures 14-inches by 22-inches and rocks a large main compartment for all the gear (baby or otherwise). Better still, at least for organized parents, the exterior is lined with eight gusseted side pockets to hold diapers, wipes, and, when you're off duty, whatever you need to carry. The seams are double-stitched, the hardware's all brass, the label says "Made in the USA."
As it is intended as a diaper-before-gym bag (at least for the first few years), the $195 James is also equipped with a leather changing pad and a matching field kit pouch for an extra $64 ⏤ a small price to pay to never get caught unprepared changing a diaper on the floor of the men's bathroom.