7 Shawl Collar Sweaters to Buy Now and Wear All Winter
You can't go wrong with a shawl collar.
by Jon Gugala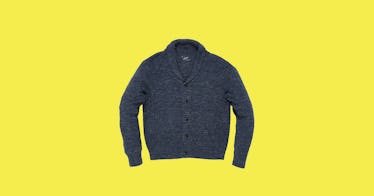 When Victorian men finished uptight dinners or evenings at the opera, they removed their stodgy formalwear and slipped into something more comfortable: the smoking jacket. Among its many features, one easy distinction was in its collar, which featured a continuous, unbroken arc rather than the usual peaks. The shawl collar, as it became known, signified it as leisurewear, and in it, the then-modern man would sip his brandy, smoke his cigars, and talk about the topics of the day. That same shawl collar has since been appropriated into the sweater, and like its après-evening forbear, it carries with it the same connotations: neither buttoned-up nor sloppy, and possessing just the right amount of refinement. Whether the piece is a cardigan, buttoning down the front, or the pullover style, the shawl-collar sweater is a cut above for the man who is both put-together and at ease. Here are some of our favorites.
L.L. Bean Signature Cotton Fisherman Sweater, Shawl-Collar Cardigan
For its classic Cotton Fisherman Sweater, L.L. Bean wove a bale of the fiber into a thick midlayer, which it says will span four seasons. We love its slimmer shape—a must with such a chunky garment—and that it's one of the more modestly priced we found.
Pendleton Tucson Cardigan
From the same company that outfitted The Dude in cowichan in The Big Labowski, Pendleton continues to shine with its heritage Western aesthetic. Its Tucson Cardigan is made from pure lambswool and knitted in an eye-catching pattern. With a thick weave, it can easily double as a light jacket on warmer days.
Old Navy Shawl-Collar Sweater
Old Navy's Shawl-Collar Sweater is a steal for the price. With a trim fit, it has the same silhouette of pricier tops in the category, but the cotton-poly blend allows for an easier life (and lower dry cleaning bills). If you've been on the fence for a sweater, this is a guilt-free purchase.
Ralph Lauren Cable Wool-Cashmere Cardigan
Blending the warmth of wool and the softness of cashmere, Ralph Lauren's Cable Wool-Cashmere Cardigan is a piece resilient enough to pass on to your son or daughter, provided he or she doesn't steal it first. Thick cable knitting across the chest and back means you'll need to dump heat rather than add a hat. And with its classic look, it's one you can wear as easily around town as you can around the house.
Outerknown Shelter Cardigan
Surfing icon Kelly Slater's house brand Outerknown has finally begun to move away from the water, and we're digging its landlocked Shelter Cardigan. Blending organic cotton with wool, it offers the ruggedness of the former with the wintertime performance of the latter. We especially liked the flecking of its fabric, which is visually more interesting than the usual single-colored knits.
Faherty Brand Marled Cotton Shawl Collar
Faherty Brand's Marled Cotton Shawl Collar pairs merino wool—the softest and least-itchy available—with cotton as a base, and then knits it into a functional piece with vintage aesthetics. Unobtrusive touches like the burnt-horn buttons at the collar made us appreciate the care and craft of its design. Using both black and white yarns, from a distance its surface appears grey, but up close a depth emerges that makes this sweater one to which you'll return to season after season.
Grayers Cabana Shawl Cardigan
For dads who live in their sweats, the Grayers Cabana Shawl Cardigan straddles the line between sweater and athleisure. A fine-guage knit, contrast stitching, and big side pockets make it feel remarkably like your favorite hoodie, but the button placket up the front, cotton-wool blend, and elbow patches add just enough detail to distinguish it. This is the best of both worlds and the perfect Saturday piece when your partner insists.