10 Toys and Games For Kids (And Parents) Who Love Sharks
Including a 5-foot remote control flying shark and some big-toothed bath toys.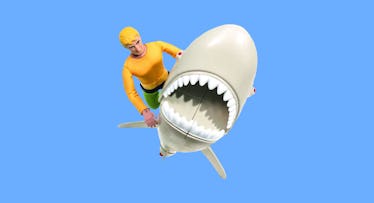 Sharks are always popular. But everyone's obsession with the family elasmobranch fish rises exponentially when summer rolls around when beaches, oceans, and Shark Week, Discovery Channel's seven-day binge of the creature, come around. We're not complaining: We've loved sharks ever since we were children — and many of our kids now have an affection for them, too. We're guessing yours do, too, so we wanted to highlight some of our favorite shark toys for kids and, who are we kidding, ourselves.
Air Swimmers Remote Control Flying Shark
Basically a remote control birthday balloon, this R/C Flying Shark lets you pilot a nylon shark in the air. At almost five feet long, it's big enough to swallow your average toddler, and is fully mobile thanks to its flapping tail and fins. It's made of three layers of high-quality nylon material, but just keep it away from ceiling fans and sharp corners.
$35
Blankie Tails Shark Blanket
Designed for kids ages 5 to 12 who wonder what it would be like to be gobbled down by a Great White, the Blankie Tail shark blanket is made with premium-quality, extra-plush, double-sided minky fabric, which makes it perfect for sleepovers, camping trips, or voyages to the briny deep. It's machine washable, and comes in four tasty color combinations.
DC Retro Aquaman vs. The Great White Shark Retro Action Figure
This retro remote controlled Aquaman vs. The Great White Shark playset is ideal for a bathtime battle. Aquaman is a fully poseable 8-inch figure, while the monster shark features realistic swimming action and intuitive chomping jaws. Oh, and did you see the Aquaman trailer yet? It actually looks…pretty slick.
Shark Week Build-A-Bears
Exclusively for Shark Week, the world's most famous bear Frankensteiner has released an assortment of SW gear and plushies, including shirts, flip flops, shades and stuffed creatures. You can choose between a hammerhead or a Great White, each sitting upright at about 15 inches. Just don't get any stuffing in the water.
Melissa & Doug Shark Sunny Patch Spark Shark Toss and Catch
Perfect for in and out of the water, the Spark Shark Toss-and-Catch Net Pool Game features two shark-shaped nets, light enough to wave and wobble (each net weighs less than a pound), but strong enough to last the whole playtime with you and your chums. (Get it?)
Shark Teeth
These tough teeth are look so real, only your kid's dentist will know for sure. Okay, that's not true. But they're pretty fun. They're made from 100 percent food grade silicone, which is BPA and latex free, and they're one-size-fits-all. Just make sure the kids don't bring them to school picture day
Shark Bite Game
The goal of this family game is to snag as many fish as possible, while avoiding a disastrous chomp from the titular shark. Fun and colorful sea creature pieces make this game a blast to play, and the unpredictability of the hungry shark will help your little one hone their reflexes…and develop great fin-eye coordination.
Shark Tooth Dig Kit
Dig and discover three real shark teeth! Each one comes from a different species – the Sand tiger, Otodus, and Crow sharks – and is approved by the National Geographic Society. (We hear they know a thing or two about wildlife.) Your kids can start their own fossil collection, begin a career in marine biology, or just seriously freak out the tooth fairy.
Rubber Shark Family Bathtime Pals
This family of bath toys includes a mama shark (who floats and doubles as a soap dish) and her three baby sharks (that are also water squirters). The rubber, phthalate-free foursome is made for children three and up.
Melissa & Doug Giant Shark Stuffed Animal
The largest great white shark on record was 36 feet long and weighed roughly 1,200 pounds. This giant stuffed animal is only 41 inches long and 13 inches wide, but that's still enormous to a toddler. Plus, it's waaaaay softer.
Every product on Fatherly is independently selected by our editors, writers, and experts. If you click a link on our site and buy something, we may earn an affiliate commission.