Sennheiser's New Momentum Wireless Headphones Are For Hardcore Audiophiles
And they have a brilliant new feature called Smart Pause.
by Jon Gugala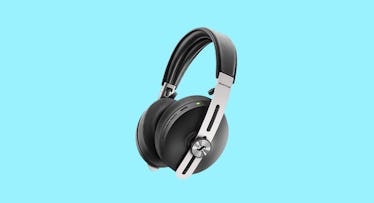 Noise-cancelling wireless headphones are great in certain circumstances— namely as a passenger on planes, trains, and automobiles. But for real life and the real dad, you need to be able to hear some ambient noise to ward off danger for you and your kiddo, and that's why we're into these brand-new Sennheiser headphones.
The Sennheiser Momentum wireless headphones allow you to customize just how much you want to hear while still producing rich, studio-level sound. The Momentum line has continually produced lust-worthy headsets in a market saturated with wireless options. The latest offers that same level of right-there sound.
The bass is deep and rich without overpowering; the mids are as full as a Wisconsin dairy cow. And the highs? Pins dropping in an empty concert hall. But rather than forcing you into its own admittedly great mix, Sennheiser has introduced its Smart Control app, which allows you access to the equalizer and achieve your perfect balance. The headphones also have proximity sensors inside the ear cups to automatically play your audio when you put the headphones on, which the brand calls the Smart Pause functionality. It's seamless, and genius.
But what really sold us are three different noise-canceling modes, which are critical in some environments. Through its app, fathers can now flit between three settings to allow in some, less, and no ambient noise. It's great when you want to customize your headphones for environmental awareness. Like your favorite Apple wireless earbuds, these headphones, connected through Bluetooth, automatically pause and resume music when you take them off and put them back on. Adjust your sound level through a simple three-button interface.
All these features are worthless, however, if the headphones aren't comfortable to wear. The plush earcups are supremely soft, while the leather head strap makes these look more timeless than 2099. They even integrate with Tile so that you can easily find them should your child hide them behind the couch.
With its combination of comfort, adaptability, and sound quality, Sennheiser Momentum Wireless headphones are some of the best available right now. Whether you're traveling during the week, relaxing after the kids go to bed, or just trying to enjoy some tunes while your child crawls around the playground, these are perfect for the ever-changing demands of dadhood.
The Sennheiser Smart Control app is compatible with most iOS and Android systems and is available in eight languages, including German, English, French, Spanish, Russian, Korean, Japanese, and Mandarin.
Every product on Fatherly is independently selected by our editors, writers, and experts. If you click a link on our site and buy something, we may earn an affiliate commission.