This New 'Seinfeld' Lego Set Is Everything the Show About Nothing Deserves
by Donna Freydkin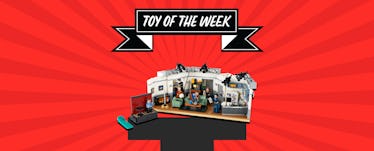 Mark your calendars, ladies and gents: Seinfeld comes to Netflix on October 1. But until then, you can seek serenity now with Lego's absolutely awesome new set, which pays tribute to the show about nothing. It's pretty much the perfect adult toy, and a solid way for you to introduce your older kids to magical show created by Jerry Seinfeld and Larry David.
The set has it all. Jerry's standup set: Check. Elaine searching for parking? Check. George returning a gift? Check. Feats of strength? Check.
The set is a model of Jerry's apartment, featuring the kitchen/living room and a blue statue, muffin top, painting of Uncle Leo, Prognosis Negative videotape, Commando 8 air conditioner and Festivus pole. Plus, you get five minifigs: Jerry Seinfeld, George Costanza, Kramer, Elaine Benes and Newman. Oh, Newman.
We could go on and on about the show, which remains timeless and beloved for a reason. Shrinkage. Double-dipper. Close talker. We could go on. But if you know, you know. And this 1,326-piece set is seriously sponge-worthy, if we do say so ourselves.
Every product on Fatherly is independently selected by our editors, writers, and experts. If you click a link on our site and buy something, we may earn an affiliate commission.
This article was originally published on