The Sealander Is a Lightweight Camper That Turns Into a Boat
It's a camper. It's a boat. It's a camper AND a boat.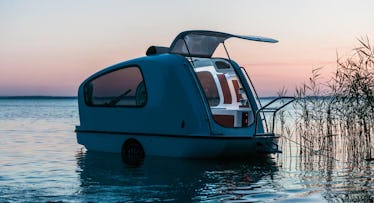 Ever look at a tow-behind trailer and think damn I wish I could drive this bad boy into the water and just, you know, cruise? Well, the German designers behind the Sealander Amphibious Trailer thought the same thing, because this camper goes full Inspector Gadget when you roll it into a lake. It transforms into a calm-water cruiser that's perfect for lazy family days on the water. Crazier still, the thing only costs $17,000 ⏤ which is pretty affordable considering it belongs in James Bond's arsenal.
RELATED: The Best Camping Gear And Equipment For Your Next Family Adventure
Made of a single piece of fiberglass-reinforced plastic, the 13-foot by 5.25-foot Sealander weighs in around 1,100 lbs. and can be towed by most vehicles. The six-person camper boasts a convertible roll-up roof and large picture windows that let in plenty of light. There are two bench seats that convert into a bed and the whole space can be customized in terms of amenities: table, toilet, and shower are all optional, as is a fridge/stove, electricity, and LEDs. Really, it just depends on how much cash you want to drop.
As a boat, the Sealander's powered by a 5HP electric outboard motor (that also powers the lights) and can cruise mostly in shallow/calm water at around 5.5mph. So, obviously, nobody's breaking out any wakeboards. Although there is a fold-down stainless-steel swimming ladder, which means passengers can tip their toes in during the slow ride. The process of going from camper to badass waterborne vehicle, by the way, is as easy as backing that sucker into the shallow end.
The only thing that's not easy about Sealander: buying one. There are currently no dealers in the U.S., although it's reported that at least one is in the works. Until then, Canada is your best bet. Eager enthusiasts can pick one up in Montreal and drive ⏤ or maybe sail it? ⏤ across the border.
This article was originally published on