The New SeaVees Casual Sneaker Is a Work of Sustainable Art
SeaChange by SeaVees : sneaker design as it should be.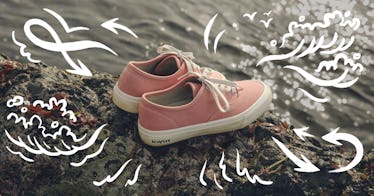 The following was produced in partnership with SeaVees.
It might seem obvious, but shoe design has really come a long, long way in the past 100 years. Sneakers have become faster, stronger, more durable, comfortable, and, of course, ever more stylish. The only thing it seems they haven't done is to get more sustainable.
Some 300,000,000 pairs of shoes are tossed out worldwide each year, making sustainability the next mountain to conquer for the sneaker industry. The good news is that shoe brands are starting to step up. The face of shoes, and the fundamentals of shoe design, may soon face, well, a sea change.
Take the latest entry in the sustainable shoe category: SeaChange by SeaVees, an almost entirely recycled sneaker collection.
"Since our relaunch in 2008, we've been working with our factories and our suppliers on challenging the industry norms," says Steven Tiller, Founder and CEO of SeaVees. "What we want to do with SeaVees is try to preserve the California dream for the next generation and generations going forward."
It takes 30 to 40 years for a pair of sneakers to fully decompose in a landfill, producing methane that's released into the atmosphere and contributing to global warming. SeaVees and other sustainably-minded brands are taking steps to undercut this by shipping in discarded plastic, cotton, and more from abroad and assembling them into premium, durable footwear.
The uppers of the shoes are canvas made from recycled cotton, originating from Spain, China, and Japan. "We found articles that — despite the added expense — still had all the attributes we look for when making a beautiful sneaker," says SeaVees product line manager Ashley Tammietti Aceves.
The outsole of the shoe — a highlight of the SeaChange line — is made from recycled rubber. For SeaVees, constructing the rubber outsole really put their mission into perspective. "Seeing the ground-up pieces of rubber from all sorts of origins, in a ton of colors, repurposed as a part of a shoe really showed us how much rubber and waste is out there," says Aceves.
The laces are also made from recycled, post-consumer plastic and the eyelets are metal-free and stitched together, which wasn't only an environmentally friendly choice, but an aesthetic one: it's a nod to the SeaChange's overarching design of clean minimalism.
"The fact that they're made of recycled components does not compromise the quality," Tiller says. "In some cases, it even surpasses our established high standards." The result is a comfortable, stylish shoe that puts less of an impact on the world.
But sustainability doesn't stop at design for SeaVees. The company takes it one step beyond the recycled materials with their commitment to 1% For the Planet, giving 1% of their revenue every year to environmental causes. "We've been a proud member of 1% For The Planet since 2012, and really focused on preserving coastal lifestyle, in and out of the water," says Tiller.
One step beyond? We meant two: SeaVees has also partnered with SeaTrees, committing to regenerating one square foot of kelp forest for each pair of SeaChange kicks sold.
The undersea equivalent of a tropical forest, kelp forests are key to balancing one of the ocean's most diverse ecosystems, preventing erosion of our beaches and helping absorb the carbon in the atmosphere. They're under attack from lousy fishing practices and pollution. "What they stand for is just so aligned with what we are," says Tiller, "and I think that it will be a long-standing partnership."
What does all this have to do with a shoe?
Well, obviously, awesome shoes are a great thing to have and wear. But the next step in shoe innovation is to minimize its impact on the planet. Brands like SeaVees are showing us the way forward. All in all, it's a very good look.
Good news! Fatherly readers get an exclusive deal. Go to seavees.com and enter FATHERLY20 at checkout for 20% off all non-sale items.
This article was originally published on