Schwinn Is Bringing Back a Limited Number of Iconic 1971 Grey Ghost Bikes
Starting Friday, the Schwinn will sell 1,400 of the classic bike similar to the one Mike rides in 'Stranger Things'.
by Dave Baldwin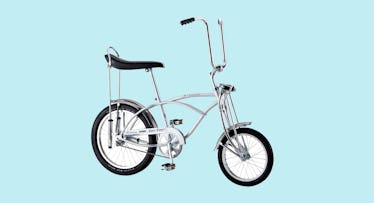 Stranger Things does a lot of things right, but none more so than its use of retro props to evoke a sense of nostalgia. From Trapper Keepers to Star Wars figures to the walkie-talkies and BMX bikes, it's no secret the show's fans have enjoyed the trip down memory lane. Which is why it makes perfect sense that Schwinn would take Mike's bike from the show ⏤ or at least one very similar to it ⏤ and bring it back to life. And that's what the company is doing: On Friday, 1,400 brand new limited-edition 1971 Grey Ghosts are hitting America's retro-crazed cul-de-sacs.
RELATED: The Best Scooters, Bikes, and Cars for Kids This Holiday
Technically, nobody knows exactly what bike Mike rides ⏤ the producers haven't specifically identified a make and model. From the best guesses (and pictures), though, it's a variation of Schwinn's classic Sting-Ray, which were popular in the '70s and '80s. It's got the sweet banana seat, high-rise ape handlebars, and 20-inch rear tire. The iconic Grey Ghost was a variation of the Schwinn Sting-Ray manufactured for only one year, 1971. As such, it remains one of the rarest Sting-Ray/Krate bikes on the collector's market, and a quick search of eBay finds one currently selling for around $1,000. This is actually the second run of limited-edition Grey Ghost replicas Schwinn has sold, the last batch hitting the market in 2004.
The 1,400 throwback models are all based on the original steel Sting-Ray frame, rock a 16-inch front tire, rear coaster brakes, and "stay true to the retro and vintage vibe" ⏤ right down to using dated (and less accepted) terminology like "sissy bar" for the passenger backrest. That said, they look pretty much exactly like the originals. They even come in a collector's edition box with a certificate of authenticity. Starting November 3rd, the bikes will be sold exclusively at Dick's Sporting Goods for $399 each, although it appears they can be ordered now online.
This article was originally published on