The Samsung Frame TV Is Handsome AF
Just because we're not cloistered in our living rooms anymore doesn't mean they shouldn't look nice.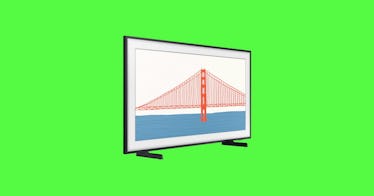 Now that we can go out again, fixing up our homes has become less crucial, but let's face it: TVs are ugly, COVID-19 outbreaks that keep you homebound, or not. But that's not the case with Samsung's Frame TV, or another one of the company's more eccentric offerings (like this outdoor TV) — which are famous for making living spaces everywhere look much better.
We recently got the Frame. And we are in love. Can you be in love with a TV? Yes, yes, you can. Let us explain why.
TVs are not attractive. The Frame is about as handsome a TV as you can find. You can either mount it on your wall, or buy a stand for it. We opted to buy the stand, instead of mounting it, because we want the flexibility to move it around. Connecting it to the stand took roughly 10 minutes. If that.
Then, of course, we had to get the TV working. First off, as a technophobic parent who needs help even setting up a Sonos speaker … the Frame did all the work itself. You seamlessly connect all your streaming services using the smart screen and even smarter remote. Within roughly seven minutes, we had Roku, Apple TV, and Netflix going. So far, so unstressful.
The Frame's QLED technology and crisp 4K clarity makes you think you're right there with 007 when he's fending off villains or racing up mountains. And when you turn off the TV, instead of a glaring black screen, you have a fully functional art gallery. Just switch it to art mode and choose from over 1,400 works from do display at home. We opted for travel photography because it reminds us that someday soon, we too will be able to see the world again. Thank you, Frame.
Tech specs that matter:
Resolution: 3,840 x 2,160
Color: 100% Color Volume with Quantum Dot
HDR: Quantum HDR
Picture Processor: Quantum Processor 4K
Every product on Fatherly is independently selected by our editors, writers, and experts. If you click a link on our site and buy something, we may earn an affiliate commission.
This article was originally published on