Deal: These Master & Dynamic Headphones Look Great, Sound Better, and Are On Sale
Premium materials, modern styling, and great audio come together in these heavily discounted cans.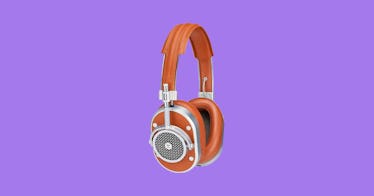 Life's too short to use bad headphones. So if you're still using the cheap earbuds that came with your phone, consider taking advantage of Best Buy's big discount on Master & Dynamic MH40 wired over-the-ear headphones, which are some of the most stylish and best-sounding cans around — and on sale today for $180 less than normal
Master & Dynamic headphones are luxury all around. There's cowhide and lambskin on the ear pads. Surrounding the memory foam-covered headband, there's a nice shade of tan and the underside of the headband looks like the supple, premium leather it is. Soft and supple, this complements the aluminum and stainless steel headband. They stand out in a crowded headphone market, and for all the right reasons.
The headphones have a sound as luxurious as their style. Equipped with 45 mm neodymium drivers for powerful, well rounded audio and the circum-aural ear pads do a nice job of blocking out external sounds. And if you want to share your audio, dual listening jacks make it easy for your companion to plug in.
The headphones also come with a solid set of accessories: a 1.25-meter woven cable with iPhone controls and mic, a 2.0-meter standard woven cable, leather cable box, canvas headphone case, and 3.5-to-6.3 gold-plated adapter.
These high-end headphones normally retail for $400, but you can grab them for just $220 today. Your wallet and your ears will thank you.
This article was originally published on