Today Only, You Can Get This Leather Duffle Bag For 90 Percent Off
That's a hell of a markdown on a product that will last you a lifetime.
by Fatherly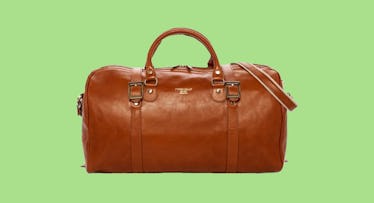 Chances are, you have a go-to duffle bag. And it's probably fine. It admirably fits a few days' worth of clothes, it doesn't crumple when treated rough by baggage handlers, and it you can pack it with gym clothes and bring it to the office without much notice. But there's something to be said about a duffle bag that begs to be seen, one that turns heads in the TSA line and makes you look like you have somewhere to be, not just somewhere to go. Is it a luxury? Uhhh yeah. But if you see one on sale you shouldn't ignore it. Because, treated well, such a bag will last you for decades and be one of those prized items you pass down to your kids.
Such a bag is the Bruno Italian Duffle Bag from Persamen New York. On sale today for 90 percent off, the hand-stitched duffle bag is made of genuine leather and available in four different colors (black, brown, tan, and Bordeaux). It has thick, rolled handles and a shoulder strap. Metal buckles and other such hardware add sturdiness as well as a bit more class. There's a large interior pocket that's more than capable of holding a long-weekend's worth of clothes; a smaller zip-pocket inside is ideal for stowing electronics or toiletries. Another nice touch: it has a slightly rounded design that makes it much easier to carry around than, say, a leather bag with a more rigid, square-formed shape. And when you have carried it around for years, the scuffs and marks of use will only make it look better.
There's a lot to appreciate in this bag. But the best right now is the price. It normally costs $2700. And it's worth that. But today it's on sale at Nordstrom Rack for $280. That's an incredible deal on a piece of luggage that'll last you a lifetime.
This article was originally published on