Save $30 On Nanit's Best-In-Class Baby Monitor Right Now
So many other great deals, too.
by Lexi Dwyer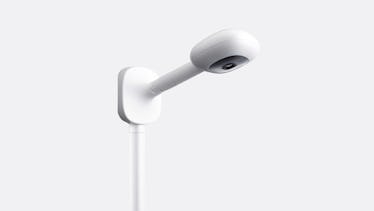 The best baby monitor is the one that works best for you. And we're seeing a lot of great baby monitors on sale. Be it a VTech baby monitor, a Motorola baby monitor, a Nanit baby monitor, or an Owlet baby monitor, there's many dozens to choose from, some at prices rivaling that of a car payment. You can opt for a baby breathing monitor, a video baby monitor, or go back to basics with an audio version.
Lower tech options are still around for chill parents, but today, you can go for one that's smarter and sleeker, with features like 360-degree room viewing (great for once your child gets a toddler bed and starts moving around), night vision, air temperature monitoring, nighttime alerts and even a two-way communication mode, so you can sing your little one's favorite lullaby from the couch (depending on your baby's age, this may or may not freak him out). One baby monitor even promises to tell you when your baby pees.
Most are also compatible with your smartphone or tablet, so you can check on baby from the office or date night (er, not that we necessarily recommend this). But all this technology certainly won't come cheap, so here are the best current deals we've found.
Thanks to an Amazon coupon, save $30 on Nanit's fantastic video baby monitor. Nanit tracks sound and motion, as well as temperature and humidity.
So not only do you get a video baby monitor that includes room temperature display, infrared night vision, two-way communication, five lullabies and split-screen viewing, but you also get a smart ear thermometer with an LCD screen. Score.
This video baby monitor has a pan/tilt/zoom option and an interchangeable lens. You can zoom in or out. There's a robust battery life: 12 hours audio-only mode, and eight hours using the live screen.
It's super-easy to set up, has a clear picture, and you just tap the screen to move the viewing around until you see what you want. Plus this baby monitor has a motion detection feature.
With the VTech baby monitor, you get automatic infrared night vision that gives you a clear view of the nursery day or night. For close ups, the camera zooms up to two times. Best of all, if you want to nap while kiddo naps, you can keep the parent unit screen turned off until it senses noise and then, once it does, a visual and audio indicator will alert you when it's time to check on your infant.
The monitor also offers an expansive view of the nursery: An extra lens is included so you can pan 330 degrees to see corner to corner and tilt 110 degrees up and down. The generous coverage area (460 feet) lets you move throughout your home without worrying that you're out of range.
The VAVA gets overwhelmingly positive reviews on Amazon; parents also praised the company's customer service for helping with tech issues and replacement parts. The monitor has the ability to zoom (2X or 4X) and there's also an autopilot mode that will scan the room. Other features include two-way communication, a room thermostat and seven different volume levels for parents (the highest will wake even heavy sleepers, and the lowest will edit out softer sounds like your toddler muttering in her sleep or rolling over).
Got a big place? This unit has one of the largest ranges we've seen: Up to 1,000 feet. Although the monitor already comes with two cameras, parents can also opt to add on two more and keep tabs on their entire house. Other key features include two-way audio, room temperature monitoring and a power-saving mode, which wakes the screen when baby makes noise, thus saving battery life.
Every product on Fatherly is independently selected by our editors, writers, and experts. If you click a link on our site and buy something, we may earn an affiliate commission.
This article was originally published on