A Baby Monitor That's Just Better
Clearer video and night vision, smarter audio, built-in security, and a set up that takes seconds. Meet the best new thing in baby monitoring.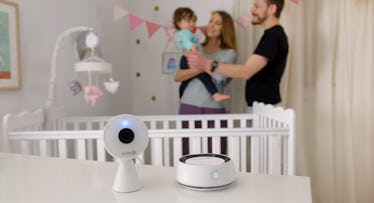 The following story was produced in partnership with Safety 1st, a leader in child safety products for 30 years, including car seats, high chairs, and strollers, and is now introducing their first WiFi baby monitor, available now.
Even though store shelves are stacked to the brim with 'smart' monitors, most of them, once you scratch the surface, aren't exactly brimming with intelligence. Too often they cut out, the batteries die, the video is a pixelated mess, and the sound is reminiscent of Poltergeist.
Safety 1st, the company that has made its name in baby gear and safeguarding solutions for 30 years, thinks they have the answer. The Safety 1st HD WiFi Baby Monitor, a first of its kind of product for them, looks to pave the way for a future of simpler, smarter, and higher-quality baby monitoring.
"People aren't satisfied with existing video monitors," says Jordan Thayer, principal product designer for the new Safety 1st monitor. "Some of the monitors have super fancy features that they claimed worked, but none of that really matters if parents can't get good consistent high quality video and audio."
As so many new parents know, there's truth to that claim — with many cams that only stream in standard definition, it can be hard to tell whether you're looking at a baby or a stuffed animal. Some companies argue that the low quality of video is in order to be more compatible with slower network speeds, but since the HD WiFi cam was built from the ground up, Safety 1st was able to work around this. "We selected a video component that allows you to stream 720P at 30 frames per second using well under 1 megabit internet speeds. So ultimately for those that might not have access to blazing fast internet speeds, we can still offer a high quality video experience, without compromises."
Panning or tilting on a baby monitor is another place for bugs: It makes a subtle whirring sound that is just creepy and could very well wake the baby. Also, without fail, it will eventually get stuck. Safety 1st removed the need entirely by including an ultra-wide angle lens with 130 degree field of view. That, coupled with a 5x digital zoom, means you can see the entire nursery up close and still get the whole picture. Even better, it all works day or night thanks to its unparalleled infrared night vision.
Next up, the setup. Safety 1st focused on this parental pain point and came up with a solution that makes this monitor probably the easiest to set up we've seen. Basically, you just snap a QR code on your phone from the monitor and the two are paired. That's it — no complicated WiFi connection wizards, Bluetooth pairings, or confusing programs to pair.
Aside from streaming video from the app, the HD WiFi cam also comes with a wireless "smart audio unit" that alerts you and lets you soothe your kid. This is where the device seamlessly comes together for parents. Because the unit is sound- and motion-activated, you can hear you baby without that constant churn of background noise. Also, because it works with the camera, it alerts parents to any and all movement in the nursery. You will not need to constantly check the device for movements or disturbances — it does all that for you.
The Safety 1st HD Wifi Baby Monitor has a few add-ons that, while not essential to monitoring a sleeping baby, let mom and dad share the experience. This starts with free cloud storage for 24 hours, meaning parents can share moments from the previous night with each other, the grandparents, or even health professional at no cost (while this feature isn't unique, other companies usually charge for this).
There are also events — basically movement settings — that you can preset to record. If your kid does something adorable like or you need to see when you took their temperature in the nursery, all you have to do is check your feed. Then you can choose to send it to a family member via text or email, or even share it to social media. More importantly, when it's date night you can easily grant access to the babysitter or grandparents via the Safety 1st, app, permanently or temporarily, without having to resync the camera or go through additional setup.
The monitor is easy to share, but not easy to hack. Safety 1st has gone to extra lengths by installing a physical encryption chip inside the camera. "The physical encryption just basically sets up a firewall, so to speak, so if somebody gains illicit access to your router, they still can't gain access the camera."
The Safety 1st HD WiFi Baby Monitor has a ton of features — enough to make this the must-have baby monitor. At $200, it's one that other companies will be chasing after for some time, while Safety 1st continues to push forward and evolve the product. "Voice assisted technology is a natural progression for our product and that will be coming soon enough," says Jordan. In other words, with this company's first baby monitor, they're just getting started.
This article was originally published on