Infant Sleep is Hard. These Bassinets and Baby Rockers Make It Easier
by Lexi Dwyer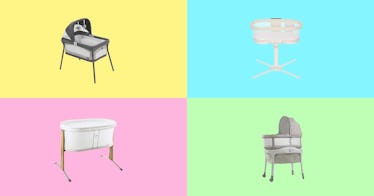 The right baby rocker sleeper looks exactly nothing like what you'd see in an elaborately-styled Instagram post. And it definitely bears no resemblance to the recalled Rock 'n Play. A safe, snug infant sleeper or baby bassinet rocker should never be inclined because letting babies sleep with their head elevated, the American Academy of Pediatrics notes, can lead to accidental suffocation and strangulation. Getting your baby to sleep through the night (or for any solid chunk of time) may seem like a truly Sisyphean task, but it will happen. Someday. That's where the best (translation: safest) infant sleepers and baby rocker sleepers come into play.
"Infant sleep is super-hard. Anyone who's had a kid knows that,"says Dr. Ben Hoffman, a pediatrician and the chair of the AAP's Committee on Injury, Violence, and Poison Prevention, who urged the CSPC and Fisher-Price to recall the sleeper. "Products that have a reclined position are not a safe position for sleep. Babies need to sleep on flat surfaces, with nothing other than them inside the sleep space. The bottom line is, don't sleep at an angle."
All of the sleepers on our list have flat surfaces, a feature that is nonnegotiable. When choosing one, pay special attention to weight and age limits, because they vary fairly widely. Everything else is a matter of choice. Some of these sleepers rock. Others glide. Others do both while playing music or soothing noises. Some do nothing except provide your child with a safe place to get some shuteye.
Every product on Fatherly is independently selected by our editors, writers, and experts. If you click a link on our site and buy something, we may earn an affiliate commission.
This article was originally published on