The Best Way to Shop for Kids Clothes, According to Kids (And Their Parents)
Clothes that they'll want to wear. For a price that won't set you back a car payment. Delivered to you.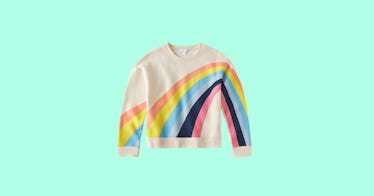 This story was produced in partnership between Fatherly and Rockets of Awesome. If you click a link on this page and buy something, we may earn an affiliate commission.
Parenting during a pandemic is hard enough, without throwing shopping for kids' clothes into the mix. You have to drag them to a store, which isn't the best idea at the best of times, but in particular when avoiding crowds is the goal. Once you manage to find parking, you wind up bickering with them about what's appropriate or practical, and it takes forever no matter how efficient you are. And you throw down a fortune, only to have them outgrow it faster than they can say Charli D'Amelio.
Which is why Rockets of Awesome is here to do the heavy lifting for you. A little background on how it works: Rockets of Awesome is a seasonal box of kids' clothes — sizes 2 through 14 — delivered to you four times a year. You can toggle between box sizes and price points, swap out styles before the box ships, and cancel or skip a box anytime.
That all makes parents' jobs easier, but kids actually like the clothes, too: they're cool, without being twee or inappropriate. The NYC-based team designs one-of-a-kind styles like flip sequin skirts, glow-in-the-dark PJs, and 3D graphic tees. If your kid has sensory issues, you'll be glad to know that most of the clothes are tag-less. And for all kids, the fabrics are super-soft, well-made enough to withstand park outings and family dinners, and machine-washable because…well you know why.
To start, you and your kid can take a short style quiz so the algorithm can learn your child's preferences. Next, choose how many items you want — five, eight, or twelve (the bigger the box, the bigger the savings) — and you'll instantly see the contents of the first box. (Helicopter parents, rest assured, you'll always know what's coming in your box thanks to the Sneak Peek feature.)
If you don't like what you see, you can swap out items before the box ships. Once the box arrives, simply check out online to select what you're keeping and send back any returns using the prepaid shipping label. You'll only be charged for what you keep. If you keep everything in the box, you can save up to 45%.
The brand is also launching a new upcycling program, Rockets Reverse, this winter, letting subscribers send back outgrown clothes for store credit. That's a look we can get behind.
This article was originally published on