Robotics Engineer Barbie Is Here To Get Girls Pumped About STEM
Because as it is, STEM careers are dominated by Kens.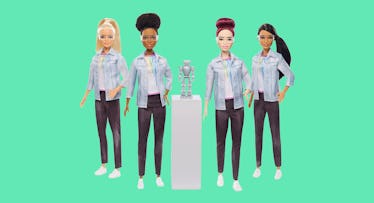 Careers in science, technology, engineering, and math are among the most lucrative in the country. Nine of the top ten college majors by starting salary are engineering, according to U.S. News and World Report, but only 13 percent of practicing engineers are women. Robotics Engineer Barbie, a new version of the iconic doll from Mattel, aims to inspire more girls to pursue coursework and, eventually, careers in STEM fields.
The doll comes with safety goggles, a humanoid robot, and a laptop. She wears a circuitry-designed T-shirt and a denim jacket. Kids can play with the doll-like any other Barbie, but they can also use a Barbie-fied version of the Tynker kids coding platform to learn basic programming concepts with a drag-and-drop interface.
The new doll comes as part of a pledge made by Mattel SVP and General Manager Lisa McKnight to "launch at least TEN role model dolls each year featuring under-represented careers, real life Sheroes from around the world, and important women in history." Other careers with their own Barbie dolls include pilot, artist, and veterinarian.
The hope is that the new dolls will call attention to the lack of gender parity in engineering and pique the interest of young girls in STEM fields. Mattel designed the doll in partnership with Black Girls Code, a non-profit based in San Francisco that gives African-American girls the skills, knowledge, and experiences to pursue jobs in computing. Many of the new dolls will be distributed to girls taking part in Black Girls Code workshops around the country.
The gender disparity in engineering is improving but at a glacial pace. If it continues at this rate, engineering will be 50 percent female in the year 2070. Robotics Engineer Barbie's ultimate goal is to make that day come much more quickly.
Every product on Fatherly is independently selected by our editors, writers, and experts. If you click a link on our site and buy something, we may earn an affiliate commission.
This article was originally published on