The Rightline SUV Tent Turns Your Car Into A Mobile Home
Like adding a bedroom to your Rav-4.
by Dave Baldwin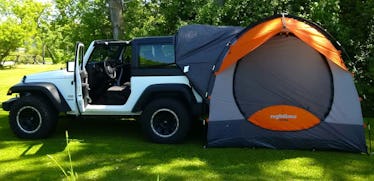 There are few camping scenarios more dismal than waking up drenched at 2 AM. The floor of your tent has turned into a swimming pool. You get soaked making a mad dash for the car in the middle of a storm. Then you spend four hours (not) sleeping upright until the sun mercifully rises so you can start the day (not) making a fire or enjoying a hot cup of coffee. This is all hypothetical. Now imagine if you could have just climbed directly from your tent into your SUV at the first crack of thunder and gone right back to sleep? Without getting a drop of rain on you? Sounds amazing, right? Well, now you can.
RELATED: The Best Travel Trailers You CAn Buy For The Cost of a Kia
The Rightline SUV is an 8-foot by 8-foot tent that sleeps 4 and attaches directly to the back of "any SUV, minivan, crossover, wagon, Jeep Wrangler hard top, or pick-up truck with cab." All you do is set it up like any other tent, back your vehicle up to the side opening (rear hatch or barn door, doesn't matter), and attach the extension straps to both the windshield wipers (over the top) and to points inside. That's it, all done. No expensive camper or trailer tent required. Kids sleep in the back of the SUV, parents in the tent. Everybody has easy access to the power outlets so you can pretend you never left the house.
In terms of accouterment, the Rightline SUV equipped with glow-in-the-dark zipper pulls, a lantern hanging hook, and 2 gear pockets, as well as "no-see-um mesh and storm covers." Even better, remember the puddle-filled-tent described above? That's not happening with the Rightline, thanks to its bathtub floor. You don't even need a ground tarp under this tent. Nor will you and your wife have to ask the kids if you can climb into bed with them when it starts raining. Just this once, promise.
Finally, if you're one of those families that gets after the outdoor adventure, the Rightline SUV tent easily detaches (and zips up) so you can have access to your vehicle during the day. In fact, it straight works as a standalone tent too, assuming you don't mind a good rain-soaked run back to your Carolla.
This article was originally published on