Holiday Gifts: TVs, Watches, Gas Grills & More For Dads
Wondering what to get dad for the holidays? Try a 4K TV, stylish watch, gas grill, hair comb, and more from our holiday gift guide.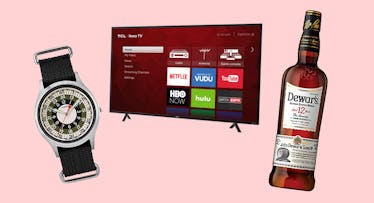 This article was produced with our friends at Dewar's, who celebrate the adventure-embracing spirit of fathers everywhere.
Dads will tell you they don't want anything for the holidays — just the family and a good meal. Don't listen to them. According to a recent Fatherly survey of more than 1,000 dads, there are plenty of things on their holiday gifts wishlist that they're not telling you about. That's where this guide comes in handy.
Holiday Gifts For Outdoorsmen
Year-Long Entry to National Parks
Why you should buy it: 17 percent of the dads we surveyed want a nice pair of hiking boots. 23 percent of them of them are interested in having some kind of outdoor adventure. Tease them with a map of their favorite park, then give them an "America The Beautiful" pass from the National Park Service, which grants holders unlimited access to more than 2,000 places to camp, fish, and hike for one year.
Buy it now: National Park Maps: free to download. America the Beautiful pass:
Holiday Gifts For Handymen
Headgehog Multi-Tool
Why you should buy it: Dads want to look good and be handy. This affordable, novel, and unlikely multi-tool builds a screwdriver, bottle opener, smartphone stand, and a couple wrenches into a stainless steel comb. Light home repairs and bad hair days don't stand a chance.
Holiday Gifts For Stylish Dads
Designer Timepiece
Why you should buy it: There's a wide spectrum of quality in the world of wristwatches, but you don't need to break the bank if Dad falls within the 11 percent of survey respondents who said they want a new watch this year. Todd Snyder's Timex collection includes the Mod Watch, an elegant, military-styled watch with a distinctive face. If you want to up the ante quite a bit, check out the Tudor Heritage Black Bay, with its silver body and beautiful red accent.
Todd Snyder
Chrono24
Holiday Gifts For Movie Buffs
Cheap 4K Television
Why you should buy it: This is simply the most popular gift desired by the dads who took our survey. 40 percent of them want a TV that packs more than 4,000 pixels horizontally and more than 3,000 vertically. Images on a 4K television are rich and beautiful. Your old 1080p television is going the way of the cathode ray tube.
Buy it now: Amazon.com, $649.99.
Holiday Gifts For Audiophiles
Home Theater Soundbar
Why you should buy it: Dads want great sound, but they don't necessarily want to spend the time wiring up a fancy new system. Soundbars not only work well as a self-contained sound system on their own, but also serve to beef up any existing audio setup. If you got the 4K TV above, this makes a great addition.
Holiday Gifts For Cooks
New Gas Grill
The Reason: Dads love to grill — 20 percent of the guys who took our survey want a new grill, and Weber makes one of the best. Its Spirit E-310 has three burners and a cooking surface large enough to prepare a meal for an entire family.
Holiday Gifts For Travellers
Getaway From Everything
Why you should buy it: Our survey reveals that dads generally want experiences more than they want material things. A company called Getaway House makes it a snap to escape from the New York, Boston, and DC metropolitan areas by setting people up with tiny houses in nearby rural areas, far from all that is familiar in these urban hotspots. If you live elsewhere, then rent a cabin via alternative means and disappear — such breaks in routine can make for great relaxation and reconnection.
Holiday Gifts For Theme Park Lovers
After-Hours Visit to Disney World
Why you should buy it: Disney World is a must for most families. But to go without the heat and crowds? That's the real way to take the family to Disney World.
Holiday Gifts For Everyone on Your List
Bottle of Dewar's Whisky
Why you should but it: 12 percent of the dads who took our survey would be happy to receive some high-quality alcohol, and it's tough to do better than Dewar's Whisky. The company's been making it since 1846, so they definitely know what they're doing — they even invented a process called "marrying," which ages the whisky twice in different oak barrels.
This article was originally published on