This Wireless Headphone Adapter Is What Families Need on Flights
The RHA adapter lets you connect your wireless headphones to any 3.5mm jack — including in-flight entertainment.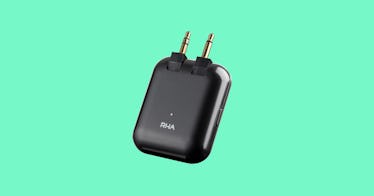 Even if you have the latest, greatest pair of wireless, noise canceling headphones, when flying, you have to suffer through the indignity of wearing the airline's hand-me-out pair of wired headphones if you want to watch in-flight entertainment. It's a minor inconvenience still worthy of a solution. And with the new RHA Wireless Flight Adapter you can beam everything from in-flight announcements to those old episodes of Pawn Stars to your personal cocoon of high-end sound.
The RHA Wireless Flight Adapter allows you to pair wireless headphones with the in-flight system via a simple, Bluetooth 5 pairing process. The casing is about the size of a tea bag, and features two hinged, 3.5mm jacks that allow you to optimize a standard plug connection without too much intrusion onto your lap space. (Most airline headphone ports are integrated into the arm rests.) The battery life is a very respectable 16+ hours on a full charge (via the side-mounted USB-C input), which means, conceivably, you could crank the volume and ignore 192 five-minute airline safety demonstrations in a row.
More importantly, though, this adapter will completely eliminate the hassle of tangled cords, splitters and headphone hubs on your next all-family flight. A single adapter can pair multiple sets of headphones with the push of a button, so all you have to do is plug in, sit back, and listen up.
And, of course, the transmitter isn't for in-flight uses. It works in any 3.5mm output, too, so you can beam wireless content from other sources as well, be it a video game system or computer.
The Adaptor costs $50 and has a 30 foot range.